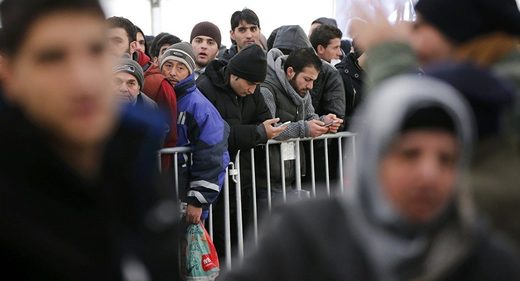 As the situation in Syria is gradually improving, there are safe havens for the Syrian refugees in Europe to return to the country of their origin, Dr. Christian Blex, who has recently visited Syria as part of a delegation made up of Alternative for Germany (AfD) members, told Sputnik on Tuesday.
"The main results we achieved during our trip to Syria were on the one hand, that the civil war is coming to an end and the reconstruction process has already begun ... We could see that there are areas in Syria, to which the Syrian refugees that are now in Europe, could return," Blex said.
During their fact-finding trip to Syria, the German delegates met with the representatives of religious and humanitarian organizations, present in the Middle Eastern country, that have also supported the return of refugees, according to the lawmaker.
"We also talked to representatives of the International Red Crescent. Everyone was pushing for a return of all Syrian foreign refugees to their homeland. Against this background, I call for an immediate return of the refugees," Blex underlined.
The lawmaker noted that the party would push for a program that will help the Syrian nationals to return to the country of origin and participate in the reconstruction.
"First of all, it is in Germany's interest to have a stable situation in Syria... Specific ways of restoration are a challenge for intergovernmental arrangements, maybe in the form of development assistance," Blex added.
In early March, seven members of the right-wing AfD political party, which is the third largest force in the German parliament, visited the Arab republic to assess the situation in the country and to find out whether there are conditions for return of Syrian refugees from Germany that has seen a large inflow of migrants from the Middle East in recent years.
The number of the Syrian refugees returning to the country of origin has recently been on the rise. On March 6, the Russian Defense Ministry said that over 200,000 Syrian nationals had recently returned to the Aleppo province with assistance of the Russian reconciliation center, while 20,000 returned to their homes in settlements of the province of Deir ez-Zor.
Earlier on Tuesday, the statistical office of the European Union (Eurostat) said that the number of first-time asylum seekers, mostly from Syria as well as from Iraq and Afghanistan, in the European Union decreased by nearly half in 2017 compared to 2016 and for the first time dropped to the pre-crisis level of 2014. Among the EU member states, Germany received the majority of first-time asylum applications in 2017, 198,300 bids from a total of 650,000.