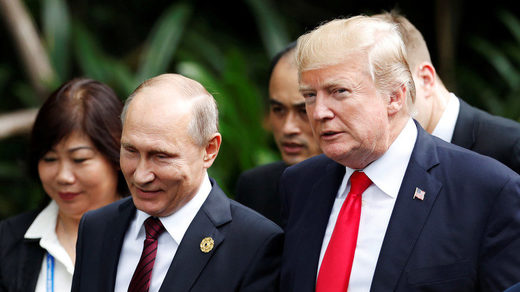 All hell broke loose in Washington DC on Tuesday when President Donald Trump confirmed that he had congratulated Russian president Vladimir Putin on his recent election victory.
Journalists and Trump critics flooded Twitter with sarcastic remarks, registering their disgust at the news, using the
benign remarks
as more evidence of his alleged (by some) collusion with the Russian state.
CNN's national security reporter Zachary Cohen pointed out that both Kim Jong-un and Trump had now congratulated Putin, in an apparent effort to cast Kim and Trump in the same light for the crime of extending congratulations which, in reality, is fairly standard diplomatic protocol.
Daily Beast reporter Adam Rawnsley, also miffed by Trump's words of congratulations to the Russian leader, used the occasion to bring up the poisoning of a former Russian spy and his daughter in the UK, accusing Russia of using a "weapon of mass destruction" on British soil, even though there's no evidence to prove that.
Senator John McCain, who once called Russia "a gas station masquerading as a country" was widely quoted by the media for a tweet in which he accused Trump of insulting "every Russian citizen" by congratulating Putin.
Something which escaped the attention of Zachary Cohen and others, however, was that former President Barack Obama also congratulated Putin on his victory in 2012.
But it didn't end on Twitter. At the White House briefing which followed Trump's comments, press secretary Sarah Sanders was immediately inundated with questions about Russia. In fact, the first six questions were about Trump's comments.
It's lucky there's nothing else important going on in Washington DC this week. Like, the visit of the Saudi Crown Prince, or the looming government shutdown.
It wasn't all shock and outrage, however. Some took the more sober approach of pointing out that Trump's comments were nothing out of the ordinary.