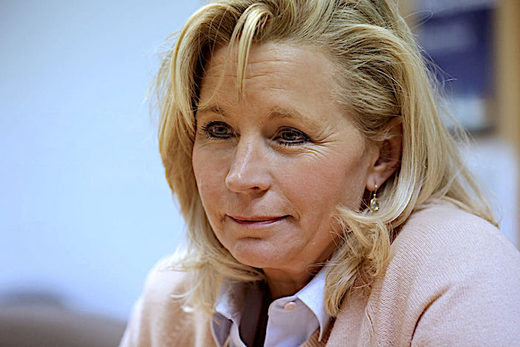 As lawmakers and former intelligence officials defend Trump's CIA pick, civil libertarians argue she "should be in jail."

President Donald Trump's decision this week to nominate Gina Haspel - an intelligence official civil libertarians argue "should be in jail" for her role in the Bush administration's torture regime - as the next CIA chief has illuminated something of a spectrum of torture apologists among America's political elite.

Placing herself firmly on the far-right end of this spectrum on Tuesday was Rep. Liz Cheney (R-Wy.), daughter of former Vice President Dick Cheney, who tweeted a proud defense of the CIA's euphemistically-named torture program at Sen. John McCain (R-Ariz.), who argued the Senate should closely scrutinize Haspel's role in overseeing the torture of detainees at U.S. black sites overseas.
In openly praising the Bush torture regime and the "brave men and women" who carried it out, Cheney differentiated her position from that of many Washington establishment figures who have defended Haspel's role in overseeing the Bush torture program this week, on the grounds that she was merely "
following orders
."
For instance, former CIA director Michael Hayden
wrote
in an op-ed for
The Hill
on Wednesday that Haspel's "role in CIA's counterterrorism program" should not be cause for concern, as
she was merely doing "nothing more and nothing less than what the nation and the agency asked her to do."
Highlighting several similar examples in an
article
for
The Intercept
on Thursday, Jon Schwartz argues the defense of Haspel offered by Hayden, former Obama officials, and some lawmakers is
precisely the defense Nazis used during the Nuremberg trials following the Second World War.
While Nuremberg judges rejected the "Nuremberg defense" as illegitimate,
"many members of the Washington, D.C. elite are now stating that it, in fact,
is
a legitimate defense for American officials who violate international law to claim they were just following orders,"
Schwartz writes.
In a tweet on Thursday, Trevor Timm, executive director of the Freedom of the Press Foundation, summarized the principal narratives of torture apologists - all of which serve to undermine all attempts to hold those who oversee violations of international law accountable for their actions.
The rush among the intelligence establishment to defend Haspel's past comes as
civil liberties groups are ramping up efforts to stop her confirmation.
As The Daily Beast's Spencer Ackerman
notes
,
these groups "spent Barack Obama's presidency loudly warning that without prosecutions for torture, it will be a matter of time before torture returns."
Now that the U.S. has a president who
campaigned on bringing back torture
, the effort to block Haspel is "a fight [rights groups] feel compelled to wage," Ackerman writes.
"Gina Haspel dishonored our country and disgraced herself by participating in the CIA torture program and the destruction of criminal evidence," Wells Dixon of the Center on Constitutional Rights, told The Daily Beast. "We do not believe she should be director of the CIA.
Rather, she should be in jail."