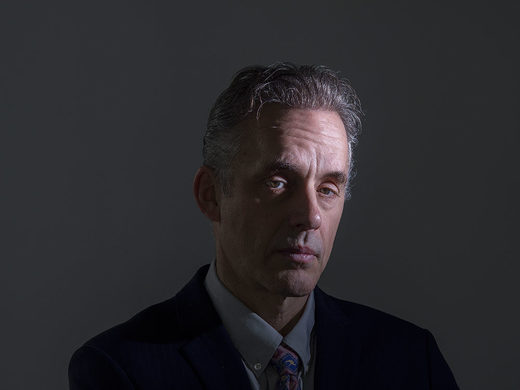 I want to start by saying: if you don't have a ticket to see Jordan Peterson while he's in Australia, run and get one. Beg, borrow and steal to get one. Except you can't.
Peterson arrived in Australia this week for what, to their dismay, local organisers - a small company, True Arrow Events - immediately recognised is a too-short series of lectures in too-small theatres, on too few dates. He is sold out everywhere.
People can't get enough of the 55-year-old psychologist. So, what will you be missing?
I went along to the Melbourne lecture on Thursday to find out. I'm not going to deny that I was already a bit of a fan girl.
Like many people, I stumbled on Peterson online last month when his interview on Britain's Channel 4 with Cathy Newman went viral. I enjoyed it - enjoyed him - so much, I went and got his book
12 Rules for Life: An Antidote to Chaos
and inhaled it in a day. And OK, sure, since then I may have found myself, more than once, happily lost down a YouTube rabbit hole of Peterson ­lectures.
This was to be the real thing.
The event was to be held in the sublime surroundings of the Melbourne Recital Hall. It was a warm night and the crowd was mostly on foot, and mostly young but not especially so - there were certainly people middle-aged and older.
I found myself seated in the second-back row, near the sound mixer, alone yet not, because it seemed like half the crowd had come alone, and I soon found out why: they hadn't been able to convince friends to come along.
You want me to sit for two hours listening to some obscure Canadian drone on about the meaning of life - or else maybe pluck my eye out with a fork?
Pass the fork.
They had shrugged and come along anyway.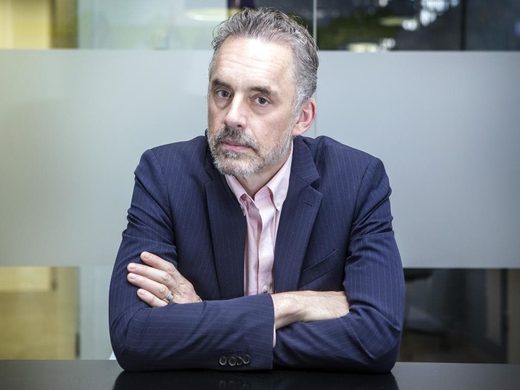 To my left, I had a super clean-cut guy, Alex Roy, 32, who works for a non-profit. Behind us was the tattooed and beautiful Maggie Baines, 32, who is doing gender studies at the University of Victoria (she sheepishly admitted that her girlfriends weren't all that happy about the idea of her "going to see Jordan 'Effing' Peterson because I guess he's seen as a bit antifeminist"); and to our right we had brothers Tim and Nathan Morris, 24 and 26 respectively, who stumbled on Peterson while gaming, and soon found themselves "like, not talking about
My Kitchen Rules
, talking about big issues, like: what is the purpose of my life?"
Within seconds, everyone had introduced themselves and they were all getting animated, remembering the best things they'd heard Peterson say, when the lights dimmed and Peterson strode on to the stage.
To my complete surprise, they - indeed the entire audience - immediately rose as one and gave him a standing ovation. He hadn't even said anything yet!
His first words were: "It's three in the morning my time."
They cheered that, too.
Peterson did not say so but he had only just got off the plane. It would be an exaggeration to say that he has been on a speaking tour nonstop since the start of the year, but not by a lot. He's touring the world and it's different every night. He decided on his topic for Melbourne just 10 minutes before taking the stage.
He wanted to begin, he said, with something "spectacularly difficult". The existence of God.
Peterson uses Bible stories to illustrate basic points in his lectures, and "people keep asking me, do I believe in God? And I've been accused of hedging my bets."
It wouldn't be fair to try to summarise his answer to that question. He spoke for more than 90 minutes, with no notes. If that sounds like your worst nightmare, know this: he does not drone.
Peterson has an unusual way of speaking that carries you along. Partly it's the accent - he is a Canadian who has spent time in the US - but it's also the way he speaks, with his long fingers pressed against his forehead, like he's trying to push, or maybe even pry, the thoughts out.
Other times he's like a mime artist, using his hands to draw boxes in the air, or else he's doing a sucking thing with his fingers, drawing his hand back, like the movement of a jellyfish.
He does not shout or insist.
He's not a snake-oil salesman or a tub thumper.
He's got his doubts, too. And depression.
There is also the manner in which he paces the stage, lean and hungry. All of Peterson's clothes are new because he recently has lost more than 20kg by restricting his intake pretty much to moose, elk and steamed broccoli.
His daughter Mikhaila, 25, has suffered from chronic ill health almost all her life, including a form of arthritis that cost her a hip and an ankle when she was 17, and threatened to crumble more of her joints. She invented a diet that he has now adopted. It's so strict, the tour organisers had to book him into self-catering hotels and Airbnb where the whole family can prepare their own meals (there being no elk in Australia, kangaroo may have to do).
Mikhaila Peterson credits the diet with curing her ailments and Jordan Peterson's depression, which has been severe at times. He is now obsessive about food and veers dangerously close to those gals who claim to cure disease with food, except everyone knows he is right. You do feel awful when you eat junk food, and when you stop you'll lose weight and feel better, and diabetes and arthritis may well be improved.
But on with the show.
What did he say?
In essence, his point was not a new one: in a million years, who will care that you lived? You will be dust, and so will everything you ever did and everyone you ever loved. "Given that, you can decide that everything's pointless, and yet we don't," he said.
Human beings tend to live like there is a point to it all. Not just here in the West. Every society has its parables. We are apparently hardwired to accept that there is more. Which maybe means there is more?
Maybe life does matter.
Maybe we do, too.
On the other hand - and we all know this is true - with every person you meet, "you don't have to scratch very much to find a bedrock of tragedy".
"God only knows what's wrong in your life," Peterson said. "No doubt plenty, and there is more to come, you can be sure of that."
That's because even normal, well-functioning human beings are burdened by sorrow, and how could it be otherwise? We all suffer because bad things happen to all of us. We all lose people we love and in the end we all die.
Think about that for even a day and you'll find yourself on the edge of nihilism. What can rescue us from despair?
"Happiness isn't going to do it, that's very fragile," Peterson said.
But meaning?
That may be the trick.
But what does it mean, to have meaning in your life?
Peterson's ideas are difficult to summarise but essentially he believes that heaven and hell exist in some form on earth, and anyone who has ever done a bad thing knows it.
When you do a bad thing, you feel awful, and it's the same when you find yourself being carried along by people or organisations whose values you don't share, or working in a job that is not fulfilling, or telling lies about your drinking, or even when you're not doing what you believe in your heart you were put on earth to do.
You feel awful because you're walking in the wrong direction.
Let's call that hell, since that's how it feels.
When your house is in order, when you're acting with clarity and honesty, when you're moving in the right direction, you feel better, right?
That's the opposite of hell. Probably not heaven, since we're human, but it is better than the alternative.
Peterson's idea is that you - the sovereign individual - should start moving as quickly as possible away from hell.
Away from things that would make you feel bad, and therefore make your world worse.
Pick your goal - a job more suited to your skills, a more honest marriage, a life filled with more kindness towards others - and head in that direction.
Catastrophic things will still happen. You will still suffer, because you're human. But you will be able to bear it.
The reason we despair, he says, is because we have no target, "sometimes no bow, no arrow, no idea that we're even meant to be aiming at". So pick up whatever burden you've been given - your personal losses and grief, which you can't escape anyway - and start moving rapidly in a direction that won't make your life worse.
Make good decisions.
Don't tell lies.
Maybe the only life you'll improve will be your own, but that's a good start.
"Fix what's in front of you," Peterson said.
Peterson told the Melbourne audience he had received 30,000 letters in the six months since he rocketed to fame and, in broad outline, they said two things.
The first group says: "You put into words what I always thought was true, but couldn't find a way to say it."
The second group says: "I've listened to you, and I've been trying to put my house in order. I stopped making things worse, and lo and behold, they got better!"
The audience laughed and cheered.
Ninety-five minutes in, Peterson stepped briefly away from the stage and people were invited to line up behind the microphones, and half the audience rose and rushed toward the aisles, since everyone had a question for him.
No way was he going to get to them all, which was a shame because unusually for this format - audience participation - even the questions were good.
He was asked if there is a coming Christian renaissance - he thinks it likely - and about the looming civil crisis in South Africa.
One guy in an open relationship wanted to know if Peterson admired his decision to voluntarily face the fear and insecurity that develops when you know your partner is sleeping with other people (answer, in short: no).
A pale individual with a quaking manner asked whether "a person can continue to do graffiti and still say they were aiming to make the world a better place?"
The crowd laughed, but Peterson paused for a long time, like he wanted to give it serious consideration. "Mostly I think it's a desperate attempt to get status," he said ­finally. "And I think you should paint on your own property. But then there's Banksy.
"So I hate to say this, but it depends on who you are. Probably you're not Banksy."
It went on for a bit longer, then it was time to go, and of course Peterson got a second standing ovation, but it wasn't a long one, for everyone was rushing to get outside - and I soon figured out why.
Peterson was going to be signing. Buy a book and you'd get a chance to meet him, and didn't that provide a moment to make a local author weep: the queue was 25 wide - that's wide, not deep - and it snaked through the foyer and right up the staircase, and why wouldn't it?
There just aren't that many roaming rock star philosophers in the world today. You may think it mumbo-jumbo. You may profoundly disagree.
Even so, it will be a long time since you sat for two hours and considered the big questions with other people keen to have an animated conversation about the world, and our place in it.
I'd say get a ticket - but of course, you can't.