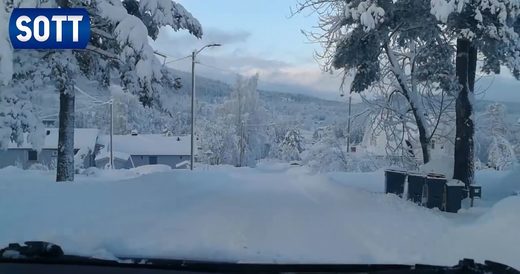 As the solar minimum continued, subfreezing temperatures and snowfalls were still breaking records in February. Canada and the US experienced another arctic blast from the now split 'polar vortex', pushing wind chill temperatures in Canada to -62°C and covering much of the northern, central and eastern U.S. with heavy snow. The cold blast also descended to Europe and parts of Asia. This 'Beast from the East' brought heavy snow to much of Europe with some parts colder than the Arctic!
China was hit by heavy snow, disrupting transportation and flights, while Japan had one of its worst winters in decades. Snow also blanketed unusual places like the UAE and Morocco.
Heavy rain caused destructive floods in Indonesia, New Zealand, Cyprus and deadly mudslides in South America, while seventy rivers overflowed from the Great Lakes to Texas. Record-breaking size hail pounded Argentina, while California and Saudi Arabia were pounded by hailstorms that caused damage and disrupted traffic for hours.
The Ring of Fire continued with increased activity, volcanoes and mud volcanoes that had been dormant for decades awoke with a vengeance, triggering evacuations and disrupting the flights of thousands of travelers. Taiwan, Papua New Guinea and Mexico were also shaken this past month by significant earthquakes as the the cosmic ray grand maximum approaches.
Dry tides are becoming more common all around the world, while mass fish deaths and strandings continue to baffle scientists.
Meteor fireballs put on quite a show again this month, while the reports of unexplained loud "booms" increased all over the world.
Check it out below!
Watch it on Sott.net's
Vimeo channel
:
Music used: 'Escape from the Temple' by Per Kiilstofte. Licensed under Creative Commons Attribution 4.0 International
To understand what's going on, check out our book explaining how all these events are part of a natural climate shift, and why it's taking place now:
Earth Changes and the Human-Cosmic Connection
.
Check out previous installments in this series - now translated into multiple languages - and more videos from SOTT Media
here
,
here
, or
here
.
You can help us chronicle the signs by sending your video suggestions to sott@sott.net