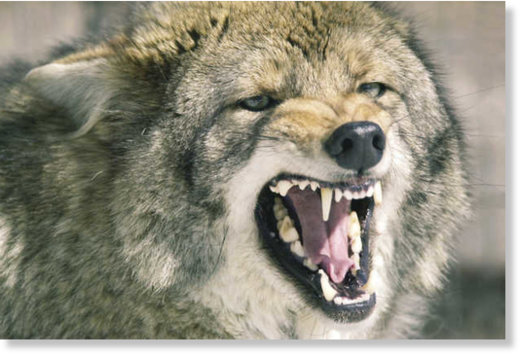 Police in Westchester County have been searching for aggressive coyotes responsible for attacks that have terrorized neighborhoods this week.
In Yonkers, police said one coyote was shot Thursday in the vicinity of Dunwoodie Golf Course, while another remains at large.
"The coyote did become aggressive with the police officer.
Came out of the brush and bit that officer
and then was shot at that time," said Kieran O'Leary of the Westchester County Police Department.
Police say around 2 p.m. Thursday
, a coyote attacked a woman riding a bicycle on South County Trailway.
It missed her, biting her back tire instead.
Then about an hour later, near the golf course, a 24-year-old man on his bike was bit and rushed to a hospital.

"It felt like a strong clamp on the leg," said the victim, Marc Gouran.
And, speaking exclusively with Eyewitness News, Gouran says he was bit Wednesday night on his neighbor's porch in Hastings-on-Hudson.
He says the 50-pound coyote attacked with no warning.
"I was lucky because I had thick pants on and it was just one strong bite although there are four puncture wounds which needed to get treated at the emergency room," said Gouran.
Police said two people and their dogs were attacked by a possibly rabid coyote in Hastings-on-Hudson on Wednesday. One small dog was killed.
Authorities said one of the attacks happened in Hillside Woods and the other on nearby Kent Avenue. In both instances, people were walking their dogs when a coyote suddenly attacked.
In both cases, the people were bitten by a coyote and had to be taken to the hospital.
The extent of their injuries is unknown.
In another instance, a postal worker was delivering mail on Shelburne Road in Yonkers when a coyote bit her leg.
Jimmy Nolan, a neighbor, took pictures of the coyote moments before this attack.
"This thing is pretty big," he said. "It's the size of a greyhound."
Surveillance video from Donna Nolan shows the coyote run toward a man in Yonkers before he jumps into his car window. Nolan said this video was recorded Wednesday night.
A coyote was reportedly involved in a car accident in Hastings-on-Hudson Wednesday and sustained a fatal injury, police said. The animal was transported by the Greenburgh Animal Patrol to the Westchester County Health Department for testing.
Police have not confirmed if there are more coyotes on the loose. Authorities are continuing to urge the public to avoid wooded areas and keep kids and pets inside.
Four parks in Hastings-on-Hudson were closed as the search continues.