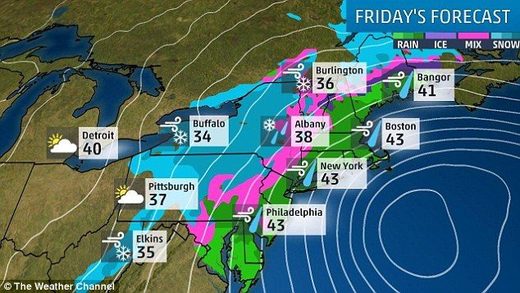 The Northeast is bracing for a 'bombogenesis' that experts say will bring violent 80mph wind, torrential downpour, snow and heavy flooding, resembling the harshness of January's 'bomb cyclone'.
Weather experts said Thursday that Winter Storm Riley will undergo 'bombogenesis', caused by a rapid drop in atmospheric pressure of at least 24 millibars in a period of 24 hours or less.
The drop in atmospheric pressure will force the storm to form into an intense nor'easter into Friday.
A sudden pressure plummet on Friday is expected to hit the Atlantic coast leading into Saturday.
'Please take this storm seriously,' the National Weather Service in Boston said. 'For those living along the coast, this is a LIFE & DEATH situation.'
From Boston down through Rhode Island, two to five inches of snow is expected.
On Thursday night, snow started to spread across the eastern Great Lakes and into upstate New York and northern Pennsylvania.
The snow also started to spread eastward through the Northeast and into the central Appalachians.
High wind warnings stretch from Maine to the southern Appalachians, including virtually the entire Interstate 95 urban corridor from Boston to Washington, DC.
The National Weather Service added that isolated wind gusts could reach 80mph winds, which would then be classified as hurricane-force wind capable of downing trees and knocking out power.
According to Weather.com, by early Friday morning, these high gusts will have spread into the Baltimore and DC areas.
As the nor'easter intensifies on Friday, winds will also sharply increase in New England, Long Island and the New York City area, especially near the coast.
Experts predict that there will be gusts over 80mph are possible in far southeastern Massachusetts, including Cape Cod, Nantucket Island and Martha's Vineyard, Rhode Island and, perhaps, the Twin Forks of eastern Long Island.
The high winds, combined with heavy, wet snow will likely down trees and trigger widespread power outages in the East.
Flight delays will also be numerous from Chicago all the way to Boston. To adjust, airlines have already begun waiving change fees.
Two feet of wet snow is expected to bury parts of New York and Pennsylvania,
USA Today
reports. Blizzards could even be expected in some parts of Pennsylvania.
The Weather Channel has named weather system as Winter Storm Riley but warned that that wouldn't be the worst to come.
'Unfortunately, there is increasing potential for another major coastal storm by the middle of next week,' the Weather Channel said.
Adding to the weather is a full moon that will cause the tide to be its highest during the month. Two to three feet of water is expected to drain into neighborhoods along the coast.
Coastal flooding could be life-threatening along the Massachusetts coast. Coastal flood watches and warnings have been issued by the National Weather Service from southern Maine to North Carolina's Outer Banks.
Wave heights are also slated to reach four to eight feet along the eastern shore, contributing to flooding. The storm is expected to last for a few days as it will be slow moving.
Eastern Long Island up until eastern Massachusetts could see four to five inches of rain from Thursday evening through to Saturday. The rest of the east coast should see two to four inches.
Water levels may be two to five feet above normal tides along the eastern Massachusetts shore.
Republican Massachusetts Gov Charlie Baker activated 200 National Guard members to help with the storm.
'We're expecting to see more severe flooding issues here than we did in the January 4 storm,' when a Nor'easter lashed the region with heavy snow and rain, he said.
Residents were taking matters into their own hands.
See rest of article
here