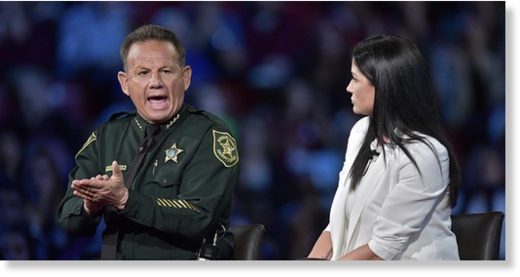 Updated: Note this story was changed to reflect that 40 of the 66 investigations occurred under Broward County Sheriff Scott Israel.
There are more than 66 investigations by the Broward County State Attorney's office into Broward County Sheriff's deputies and employees, ranging from drug trafficking to kidnapping since 2012, according to a 2014 Brady list produced by the Broward State Attorney's office.
Forty of the investigations occurred under embattled Sheriff Scott Israel's watch. His office is now under investigation for allegations that his
deputies failed
to allow first responders from treating patients at the scene of Stoneman Douglas High School shooting on Feb. 14, and failure of his deputies to enter the school during the rampage that left 17 people dead, according to reports.
Over the weekend Israel fought back on calls for his resignation saying the actions of his deputies were "[not] his responsibility" when they failed to enter the high school that was under siege by Nikolas Cruz, 19. Police responded to calls regarding Cruz over
45 times
over a seven-year period, although Israel disputes the report, stating his office only received
23 calls
during that time frame. The FBI also received
a detailed call on Jan. 5,
warning that Cruz had posted disturbing images of slaughtered animals and comments on his Instagram saying he wanted to kill people,
according to reports
. The FBI stated on Feb. 16, that the tip was not forwarded to the FBI Miami Field Office.
But Israel has long been criticized for his leadership.
While Israel is battling allegations that his office failed to appropriately respond to the Cruz shooting, he is also fighting a civil court case brought by the family of Jermaine McBean, an African-American information technology engineer. McBean was killed in 2013 by Israel's deputies after they responded to a call that McBean was walking in his neighborhood with what appeared to be a weapon. It was an unloaded air rifle.
McBean, who was listening to music on his earbuds, had just purchased the air rifle and was taking a 10-minute walk home from the store when the bag covering his air rifle blew off. A motorist called 911 saying they saw a man with what appeared to be a weapon but then stated to the 911 officer that it may be an air rifle, according to court records. McBean was eventually confronted by the Sheriff's deputies Peter Peraza, Lt. Brad Ostroff and Sgt. Richard Laccera when he reached his apartment.
According to David Schoen, the attorney representing McBean's family in the civil case against the defendants and Israel, witnesses at the scene said McBean's air rifle was resting on his shoulders, with his arms slung over. McBean couldn't hear the officers through the earbuds. According to witnesses and court records he eventually turned around and when he did, Peraza fired the shots that led to McBean's death. Peraza, who had only been working as a deputy for a year, stated to the courts that he feared for his life.
"Approximately 66 BSO (Broward Sheriff's Office) deputies and other employees, including supervisory personnel were arrested for, charged with, and/or convicted of crimes that run the gamut from Armed Kidnapping, to Battery, Assault, Falsifying records, Official Misconduct, Narcotics trafficking, and other crimes involving dishonesty and violence in the years immediately proceeding 2013 when Jermaine was killed. Most of the offenses on the list occurred in the years 2012-2013," according to court records filed by Schoen against Israel and the Broward County Sheriff deputy defendants.
"Often the cases against BSO (Broward Sheriff's Office) employees are resolved by guilty pleas resulting in short or no period of incarceration and a chance for the criminal record to be cleared after a period of time."
Broward County Sheriff's office could not be reached immediately for comment.
Three months after the shooting, Israel awarded two of the deputies the BSO's prestigious "Gold Cross Award." But under mounting criticism he later told reporters the deputies should not have received the awards, adding that he didn't award the deputies but couldn't investigate the matter because someone accidentally destroyed the paperwork,
as reported
.
Peraza was finally suspended more than two years after McBean's killing when he finally was indicted for homicide, Schoen and court records state. A local judge
dismissed the indictment
on stand your ground, allowing the deputy to avoid a jury trial but the Florida Supreme Court, however, has taken the case on review and has vacated the lower court's order, according to Schoen and
recent reports.
The criminal section of the Department of Justice's civil right's division now has an open investigation into McBean's death, Schoen said.
Israel is always shifting blame and the "buck never stops with him," Schoen said.
The most current Brady list has not yet been made available and those numbers are expected to increase, he added.
He added that McBean's family's civil case against Israel clearly details the failed leadership under Israel.
Israel is named in Schoen's lawsuit because he oversees "the training, hiring, retention, chain of command, supervision, disciplining, and firing." He is named based on "supervisory liability, his policies, and for being directly a part of the cover-up through the award process and failure to discipline, thereby ratifying and encouraging in the future this kind of conduct and an environment that rewards it," Schoen said.
Israel also spoke openly about the McBean case to the media and Schoen said Israel "misled the public as to the true facts surrounding the case," according to the court documents.
Republican Florida Gov. Rick Scott was urged by 73 colleagues Sunday to suspend Israel.
"Sheriff Israel failed to maintain a culture of alertness, vigilance and thoroughness amongst his deputies," said Florida House Speaker Richard Corcoran, in a letter released Sunday.