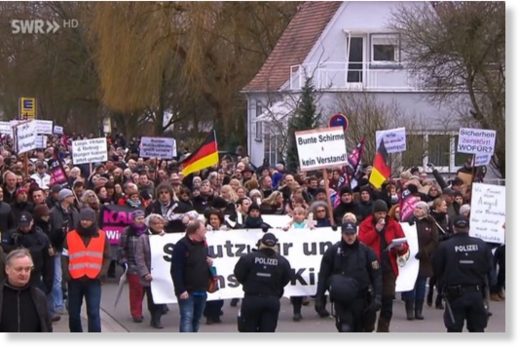 Germans are not planning to stop protesting against Angela Merkel and her migration policy. Several demonstrations have already
taken place
and the next one will be on
24 February
.
Most of Germany's protests started after the shocking murder of the 15-year-old Mia, by an Afghan refugee. The girl was attacked and murdered with a knife in a drug store in the town of Kandel.
A few courageous women started protesting in the city after it appeared
the mayor was more concerned about xenophobia than about the safety of the citizens
. The protest went bigger and later resulted in a march for Mia under the motto: "Kandel is everywhere".
Later there were protests in
Cottbus
, Hamburg,
Dresden
and
Kandel
again.
Most protesters are concerned about how Germany is changing under Merkel
and about migrant violence against women and girls.
Last weekend a "
Women's March
" was organised in Germany's capital and thousands of women (and men) attended.
While Antifa called the women Nazis and disrupted parts of their route, their action can be considered a success
.

Comment: So Antifa has been weaponized in Europe as well. If these so-called 'Anti-fascists' knew anything about anything they would be protesting their governments' support and participation in wars that have largely been the cause of the migrant crisis to begin with.


A new protest has now been planned on Saturday, February 24th in the eastern German town of Cottbus. It's reasonable to think the protests will continue and spread further across the country as migrant crime is still a hot issue for many Germans.