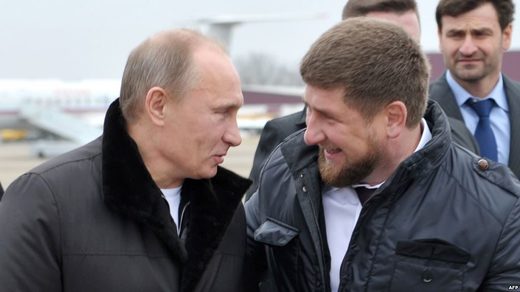 The Kremlin-backed head of Russia's Chechnya region, Ramzan Kadyrov, says he hopes President Vladimir Putin will remain in power for life.
The remark, not unusual for a regional leader who has frequently praised the president and called himself Putin's "foot soldier," comes weeks ahead of a March 18 presidential election that seems certain to hand Putin a new six-year term.
"I wish our president and supreme commander in chief a long life and hope that he will run our country for life," Kadyrov said in a
post on Telegram
on February 15.
"Exactly 11 years ago, Russian President Vladimir Putin entrusted me to continue the path of my Father, the first President of the Chechen Republic, the hero of Russia, Akhmat-Hadji Kadyrov, by proposing my candidacy for the post of head of the Chechen Republic.

Vladimir Putin believed in me, entrusted me to the republic, despite the fact that I was young. He, as a wise and far-sighted politician, understood that while I was near Ahmad-Hadji, I learned from the Father of justice, honesty and moral virtue, his firmness in the fight against evil.

I am infinitely grateful to the President of Russia for believing in me, for what he has done and continues to do for the Chechen people, for the Chechen Republic, for the entire state. All these years I tried to justify the trust. And I think that I did not disappoint the President.

Thanks to the support of Vladimir Putin, we completely eradicated terrorism, restored the republic from ruins, returned it to the legal field. We faced complex challenges, but the will and power of the President of Russia helped us solve social and economic problems. The Republic is thriving, all conditions for work, training, recreation, self-realization have been created for the inhabitants. For example, if earlier unemployment was 76%, then now 9%.

It is hard to return the world, but it is not easy to support it. The unity of the Russian people, the rise of our state is the merit of the President of Russia. Our country is multinational, but Vladimir Putin respects the traditions of every nation, manages the country based on justice and virtue. Therefore, the people trust him and support him.

Our President is constantly at work, even when he is sick. I remember that in 2007, when I was appointed acting head of the Chechen Republic, Vladimir Putin was also sick. For us, he is a strong leader, but like any other person he can get sick. Especially in the winter. Someone is trying to make a political intrigue on an ordinary cold, forgetting that the President of Russia is not a superhuman, but still a superhero.

I wish our President, the Supreme Commander-in-Chief, long years of life to manage the state for life. And we will always faithfully serve him and solve all the tasks at the highest level!"
Kadyrov also called Putin a "superhero," accusing unnamed opponents of making too much of a cold that the Kremlin has said Putin came down with a few days ago, prompting him to scale down his schedule this week.
"Some are trying to make a political intrigue out of a common cold, forgetting that the president of Russia is not superhuman -- though he is a superhero," Kadyrov wrote.
Rights activists say that Kadyrov, who was appointed to head Chechnya by Putin in 2007, rules through repressive measures and has created a climate of impunity for security forces in the province in the North Caucasus. They claim that he bears responsibility for abuses including kidnappings, disappearances, torture, and killings of political opponents.

Comment: Here RFE/RL shows its Voice of America and USAID roots. Kadyrov comes by his popular support the same way Putin does, by laboring ceaselessly for the betterment of his country's citizens.
Kremlin critics say Putin turns a blind eye to alleged abuses and violations of the Russian Constitution by Kadyrov because he relies on the former rebel to control separatist sentiments and violence in Chechnya, the site of two devastating post-Soviet wars and an Islamist insurgency that spread to other mostly Muslim regions in the North Caucasus.
With the Kremlin controlling the levers of political power nationwide after years of steps to suppress dissent and marginalize political opponents, Putin -- who is 65 and has been president or prime minister since 1999 -- is virtually assured of victory in the election. A constitutional limit of two consecutive terms means that he would be barred from seeking reelection in 2024.