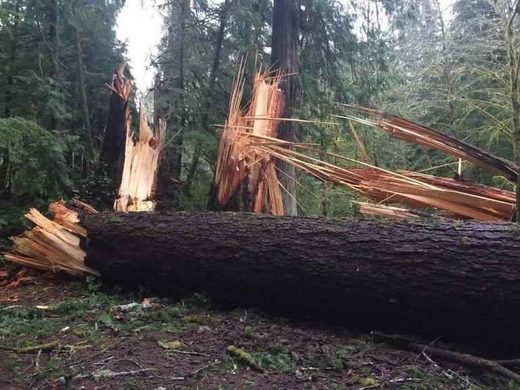 It came in the night, snapping trees like chopsticks.
During the early hours of Jan. 27 more than 100 gigantic old growth trees fell on the north shore of
Lake Quinault.
The resulting thud at about 1:30 a.m. was strong enough to register as a small earthquake, according to a seismic monitor at Quinault.
Fallen trees, their splintered trunks left pointing in the air, blocked North Shore Road and damaged utility lines along a 1,000-foot stretch. The sides of the blowdown area were about one half-mile long.
Officials from
Olympic National Park
knew some sort of wind event was the culprit but nearby weather stations reported only light breezes that night. Radar didn't show any storms.
University of Washington climatologist
Cliff Mass
investigated the mystery like, in his words, Sherlock Holmes.
The fallen trees in the affected area near July Creek were all facing south. The wind had to come from the north.
"The strong winds could
not
have been the result of microburst associated with a thunderstorm or strong convection," Mass wrote on his weather blog. "Weather radar showed no such feature and the lightning detection network had no strikes in the region."
Theories abounded on the park's Facebook page: Experimental military equipment, tornado, Sasquatch.
"Our meteorological Sherlock is perplexed," Mass wrote.
Mass checked for space objects reaching the ground but could find no evidence of one.
He did, however, find evidence for something called, "a rotor circulation associated with a strong mountain lee wave."
It's complicated.
Mass said he can't be certain but he thinks an offshore front approached the blowdown site from the south. Lake Quinault sits in a valley between two ridges.
Warm air moved above cool surface air. Different wind directions, dropping pressure and other factors (
you can read the science on Mass's blog
) led winds to reverse direction in a rotor wave between the two ridges.
"The strong winds were not from UFOs, an angry Sasquatch, a microburst from convection, or some errant meteor," Mass wrote. "An approaching front produced just the right conditions to produce a high amplitude mountain wave on the upstream ridge, which resulted in a strong rotor that produced powerful reverse flow (northerlies)."
Mystery solved. Maybe.