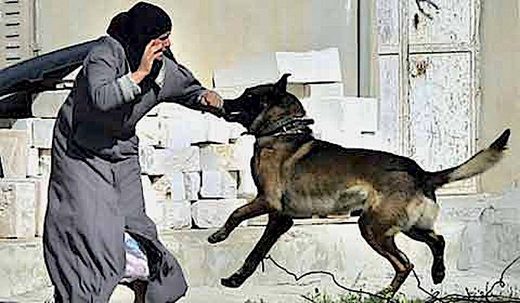 Israeli forces Saturday detained several Palestinian men during wide-scale search-and-arrest raids in three different locations in the district of Jenin, according to local sources. The army used dogs in the raids.
Soldiers surrounded the residence of Walid Irsheid in the village of Kfeir, to the south of Jenin, as
they apparently were searching for Ahmad Nasr Jarrar, who Israel believes was behind the deadly attack against a settler last month.
Witnesses said around 22 Israeli army vehicles and two bulldozers raided the village and surrounded the Irsheid home before breaking into it and ransacking it.
Two brothers from the family, Dheeb, 43, and Qa'qa Irsheid, 42, were detained.
The army also searched many other homes apparently after getting reports that Jarrar was hiding in the village but to no avail.
The army used dogs in the search and residents reported dogs bit a man and his wife, who suffered injury in her hand.
The army later left the village without locating Jarrar.
Moreover, hundreds of Israeli soldiers raided dozens of homes in the village of Burqin, southwest of Jenin, and detained at least one Palestinian from the extended Jarrar family who was also bit and injured by a police dog.
Soldiers also raided the neighborhood of al-Jabriyat in the city of Jenin and detained several Palestinian youths. One was also injured after he was attacked by a police dog.
The city of Jenin and its villages have recently been a target for non-stop Israeli army raids.
A 31-year-old Jenin man from the Jarrar family was killed in one of these raids.