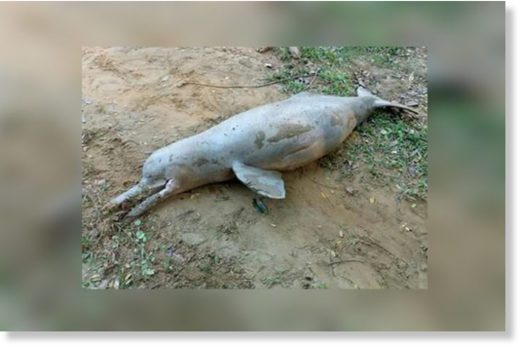 The official status of river dolphins is "critically endangered"
As many as 17 river dolphins have been found dead in Chittagong's Halda River since October last year.
Experts have mainly blamed pollution, river dredging and the plying of mechanized vessels for the deaths.
River dolphins, locally known as Shushuk, have been classified as "critically endangered" in the International Union for Conservation of Nature Red List of Threatened Species.
Fifteen dolphins were found dead between October last year and January 5. Bodies of two more were found floating in the Halda River on January 20 and February 1.
According to Halda River Research Laboratory, the river dolphin population will not exceed 1,200 across the globe and about 250 of them are believed to be found in the Halda River.
"Dolphins are called bio-indicators. The presence of a good number of dolphins in a particular area is an indicator that it has clean water," said Prof Saidur Rahman Chowdhury of Chittagong University's Institute of Marine Sciences and Fisheries.
Two types of dolphins are found in Bangladesh - the Irrawaddy dolphin and the Gangetic dolphin.
Halda River researcher Prof Manzoorul Kibria said the dolphin found dead on Thursday was four feet long. He demanded Halda be declared a sanctuary for the river dolphins.
The government in 2016 said it was planning to declare Halda River, the only natural carp breeding ground in the world, as an Ecologically Critical Area. But no apparent progress has so far been made in that regard.