Flash floods in West Auckland's Waitakere Ranges claimed two teenagers' lives on Saturday evening.
The
two people who died
after being swept away in a flash flood were both teenage boys, police have revealed.
Mitch Woolley​ and Sosi Turagaiviu,
both 17 years old, were swept away while trying to cross a swollen river
in West Auckland's Waitakere Ranges about 5pm Saturday.
Their bodies were recovered later that evening.
A 17-year-old swept down a swollen river managed to cling to a tree and was winched to safety by the Auckland Westpac Rescue Helicopter.
The teenagers were both West Auckland locals - Sosi was from Massey, Mitch was from Waitakere - and had been swimming at the Cascade Falls area with three other 17-year-old boys when heavy rains hit, police inspector Fata Willie Fanene said on Sunday.
The group sheltered on some rocks on one side of the river, but the water continued to rise, Fanene said.
The creek in Piha's Glenesk Rd rose rapidly, causing about 100 people to be temporarily evacuated from their properties on Saturday.
They then tried to cross to the other side, where their vehicle was parked, but Mitch, Sosi and another young man were all swept away.
The remaining two got safely to the river bank, and one ran to raise the alarm at the local golf course.
"He had mild hypothermia and was transported to Waitakere Hospital for treatment," Fanene said.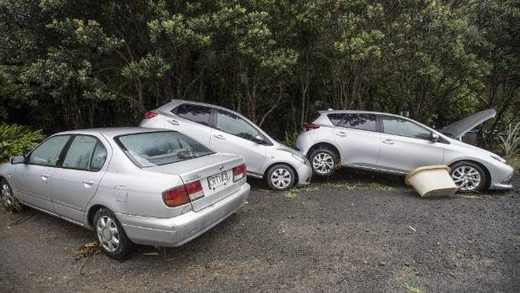 The third young man managed to grab onto a tree on the side of the river and was winched to safety by the Auckland Westpac Rescue Helicopter.
He was in a moderate condition.
Fanene said police were supporting Mitch and Sosi's families.
Auckland man Colin Ennor, his partner Sergio Lopez and their friend Daniel Moises were caught in the flash flood.
"We are also making sure the three other young men who were caught up in this event are looked after, as this has been a very traumatic experience for them and their families.
"An incident like this is an awful reminder of the power and unpredictability of our natural environment."
Mitch played football for a Waitakere-based team and was being mourned by his teammates.
"Mitch was the kind of person that made people smile by just being himself," said Josiah Brown, who played alongside Mitch for several years.
"I loved the way he played his football; he played fairly and yet hard.
"He was genuine and caring. He wore his heart on his sleeve especially when he played his football. He brought joy to all those around him and he is going to be greatly missed."
The deaths had been referred to the coroner.
The flash flooding also caused about 100 people to be evacuated from their homes in nearby Piha.
Cars were under water, and mud and debris coated the walls of houses

up to waist height.
Auckland event director Colin Ennor, his partner Sergio Lopez and their two friends were caught in the flash flood and were counting themselves lucky to be unharmed.
"The river looked like the Huka Falls - just crazy white water rapids and I think if anyone had walked in, they could not have survived," Ennor said late on Saturday night.
You can see video here.
Comment:
Only 2 days earlier
Stuff.nz reported
both an ex-cyclone
and
a king tide due to the super-blue-blood-moon-eclipse caused serious flooding:


King tide flooding leaves Auckland residents cleaning up 'heartbreaking' mess



MetService said the pressure system that caused the deluge had moved further north on Sunday morning.

A heavy rain watch had been issued for Northland, from the Bay of Islands southwards, until 10pm.

There was also a moderate risk of thunderstorms in Auckland, Northland, and the west coast of the South Island throughout the day, with a chance those thunderstorms could turn severe in Northland.

The region would also see outbreaks of heavy rain, with up to 35mm per hour predicted.

Residents of Auckland's Maraetai say the damage from ex-cyclone Fehi -

the second major storm to smash the area this month

- is heartbreaking.

Stormy weather has caused frustration as weak spots in Auckland's infrastructure gave way to flooding for the second time in less than 30 days.



Ex-cyclone Fehi hit Auckland on Thursday, along with a king tide from the 'super blue blood moon', bringing heavy rain and wind causing tidal flooding.

The storm flooded homes in Maraetai, caused commuter chaos with delays of up to three hours near Tamaki Drive, and washed away sand restored by Auckland Council only days before on Orewa beach.

SUPPLIED

Sarah Baldwin filmed the bulging king tide at Maraetai as it spilled across the road on Thursday.

It also left many Aucklanders wondering whether the city was prepared for further flooding in winter.

Claudine Kleb, who runs a house cleaning business near Maraetai, was out helping locals deal with their flooded homes on Friday.

"We had extractors to get out water before we sweep it up and try to dry the house out, we're mopping down walls - we do the best we can and try to salvage whatever we can."

Ongoing damage to the beloved pier and local businesses was "heartbreaking" for the close-knit community, she said.

At Orewa beach, some of Auckland Council's hard work restoring sand after the storm in January washed out to sea on Thursday.

However, Auckland Council coastal and geotechnical services team manager Paul Klinac said the majority of sand restored had not been affected by the storm.


You can see more video here.