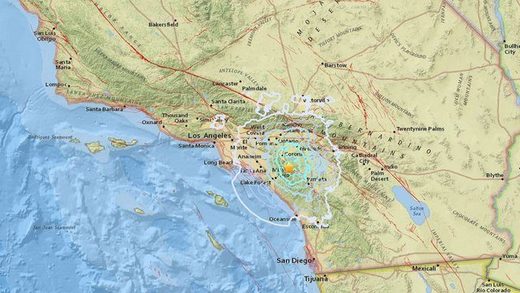 Three earthquakes hit California on Thursday,
one as far south as Trabuco Canyon and a second all the way up to a spot off the coast of
Eureka
, according to the
U.S. Geological Survey
(USGS).
A third earthquake struck near Lytle Creek, California, registering a 2.5 on the Richter scale. Trabuco Canyon, which is close to Lytle Creek, registered 4.0. Both cities are near Los Angeles.
The northernmost earthquake, closest to Eureka, registered a 5.8 on the Richter scale. However, because it hit 100 miles off the coastline, the vibrations were not as strong when they reached land.
ABC7 reports
that residents of Ferndale, California, in Humboldt County, felt the earthquake, but there are currently no reports of damage or injuries.
According to the USGS, when the earthquake hit at 8:39 a.m., the ripples of seismic activity reached from the southern coast of Oregon to nearly Ukiah, California, about 400 miles away.
Over the past seven days, California has experienced 15 earthquakes of magnitude 2.5 or greater up and down the state, including two that hit off the coast in the Pacific Ocean.
Many of the tremors occurred near or along the San Andreas fault
, where tectonic plates shift along the western edge of the state. The San Andreas fault is known to be particularly prone to earthquakes, and scientists believe that it will someday rock the state with "
The Big One.
"
Smaller earthquakes often precede bigger ones, but it's hard to say whether this activity is indicative of a bigger earthquake to come, and if so, when.
Underwater seismic activity can sometimes cause tsunamis, which can cause major destruction when they reach land. The National Tsunami Warning Center
tweeted
that the earthquake off the coast of Northern California is not expected to cause a tsunami.
The California coast is part of the "Ring of Fire," an area where there are an abnormal number of underwater volcanoes. Made up of the Pacific coastline of the U.S., Asia and the Pacific Islands, this area is prone to earthquakes.
Scientists predict that 2018 will be
a particularly bad year for earthquakes.
On Thursday, an even bigger earthquake registering a
6.2 on the Richter scale hit Japan
.