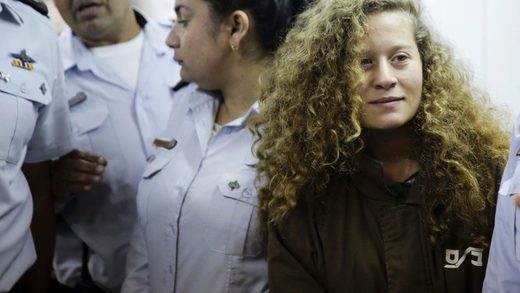 Israel's military says a teenage Palestinian girl could face up to 14 years in prison after being indicted for allegedly assaulting a pair of Israeli soldiers outside her home.
Ahed Tamimi, 16, was charged this week by an Israeli military court after she was filmed in December pushing, kicking and slapping the soldiers, who stood by silently.
Her father said the girl was upset after her 15-year-old cousin was shot in the head with a rubber bullet.
Comment:
It was a metal rubber-coated bullet, and this is what it did to her cousin:
That's life under the occupation in Nabi Saleh, where people are occupied with the struggle. About an hour after Mohammed was shot in the head at short range by an Israel Defense Forces soldier (or a Border Policeman), his now-better-known cousin, Ahed Tamimi, went to the yard of her house and tried to forcibly expel the two soldiers who had invaded her turf, while the camera rolled. It's a reasonable assumption that she tried to vent her wrath on the soldiers in part because of the shooting of her cousin an hour earlier.

Only a few dozen meters separate the place where the soldiers shot Mohammed and Ahed's home; only an hour separated the two events. People in her family relate that Ahed, 16, burst into tears when she heard that her cousin had been shot and was in serious condition. From the window of her home at the edge of Nabi Saleh, a small village near Ramallah, you can see the stone wall that surrounds the luxurious building, under construction, that Mohammed climbed in order to get a view of the soldiers who were still inside. At that point he was shot in the head with one bullet from a distance of a few meters, and fell bleeding to the ground from a height of three meters (nearly 10 feet).
The widely shared video turned Tamimi into a Palestinian hero. In Israel, the footage sparked debate about the soldiers' refusal to act.
The maximum sentence appears unlikely.
Her lawyer, Gaby Lasky, said Wednesday she doubts such a sentence is likely. She said sentencing for such an offense is usually "much, much lighter."