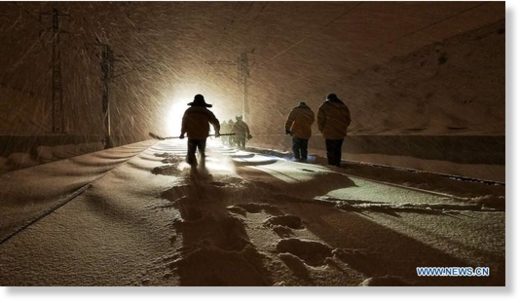 Snow blanketed the Kumtag Desert and Flaming Mountains in Turpan, of northwest China's Xinjiang Uygur Autonomous Region, on Thursday morning.
Turpan, known for its sizzling hot climate and sky-high temperatures, has an annual precipitation of only 16.4 millimeters. It rarely snows in winter.
According to the Turpan Meteorological Administration, the snow started around 06:00 and fell until around noon today. Snow accumulation was estimated to reach only 1 or 2 centimeters.
The Flaming Mountains, named for their fire red pigment, were covered in a pristine layer of powder.
Likewise, the nearby Kumtag Desert was blanketed by a fine coating of snow.
"The first snow in the desert is especially beautiful, like it's wrapped in a wedding dress. It makes people really happy and excited," described Liu Yanmei, a tourist from Urumqi, the capital of Xinjiang.
Because of the snow, both traffic and pedestrians slowed down a bit. Still, most people enjoyed the wintry weather.
"Building a snowman, throwing snowballs are so fun. I'm in such a good mood when it snows. This morning, when I was told that it was snowing, I jumped out of bed excitedly and ran out the door to see the snow," said Lou Xiaojing, a tourist from east China's Jiangsu Province.
"I came out early this morning and saw the ground all covered with white snow -- so beautiful. I come from Hunan Province. I've never seen such amazing snow. The snow here is very clean, beautiful. It warms people," said Zhao Jing, a tourist from central China's Hunan Province.