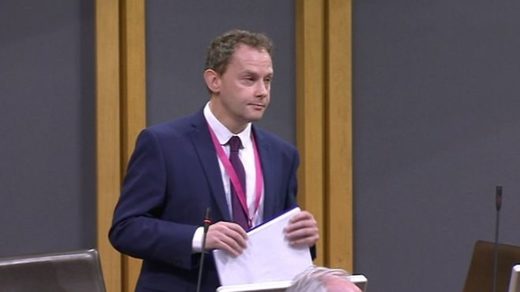 Elected UKIP politician Gareth Bennett was last week barred from appearing and speaking in the Welsh Assembly for an entire year after the Assembly speaker ruled his comments on minorities, particularly with respect to the transgender movement, "
offensive
".
During a debate on 'The Equality and Human Rights Commission Annual Review 2016-17' in the Welsh Assembly last Tuesday, 12 December, Bennett warned that at the rate society was going, it could "
implode
" if there was too much "
deviation from the norm
":
The following day, Wednesday, 13 December, the Assembly Member (AM) for South Wales Central was told he is banned from speaking in the Assembly in 2018 unless he apologizes and retracts his statement.
Bennett's answer? "
So be it
."
Previously a
member of left-wing parties including the Labour Party
, Bennett abandoned the Left in disgust at its embrace of mass immigration.
Gareth Bennett, who represents South Wales Central, had told fellow AMs there had to be a "
limit
" to minority rights, otherwise the UK faced a "
total implosion
" of society.
Despite his calm tone and plea for "
a grown-up conversation
" about minority rights, his comments, made during an 'equalities' debate, triggered incredulous looks, heckles, and derision from the Assembly chamber.
Bennett's full statement in the Welsh Assembly
"I think it would be fair to say that many of us in UKIP don't quite share the same enthusiasm for so-called human rights as people in other parties.

We are specifically concerned that the increasing focus on the rights of minorities will ultimately impact negatively on the rights of the majority population.

We can't go on as a society endlessly acceding to the demands of minorities. At some point we have to recognise that granting more rights to a particular minority group will negatively impact on the rights of the majority of people in our society as a whole.

We have a perfect example of this with the recent controversies over transgender rights.

A Conservative Government at Westminster is proposing some fairly wide-ranging increases to the rights of transgender people. This could mean that anyone who wishes to identify as being of a gender different to their physical gender may be able to do so simply by defining themselves as such.

So we could have men entering women's public toilets because these men claim to define themselves as women.

We could have male criminals demanding to be sent to women's prisons because they define themselves as women. We could end up with the Girl Guide movement having to accept men who define themselves as women as Guide leaders, because if the Girl Guide movement refuses to do this, they may end up facing prosecution because they have somehow breached somebody's so-called human rights.

We are going to have a lot of fun with this over the next few years if we continue to proceed as a society with this kind of minority-obsessed nonsense.



What we need to do is have a grown-up conversation

about the issue of minority rights and accept that there have to be limits to them.

There is only so much deviation from the norm that any society can take before that society completely implodes. And if we carry on down this road of appeasing the nuttiest elements of the transgender movement, then what we will face as a society, within a very short space of time, is total implosion.

That is not to say that there is no good work taking place in the field of human rights in Wales.

There is some good work going on. But some of the concern that this report expresses is certainly, in my view, misplaced."