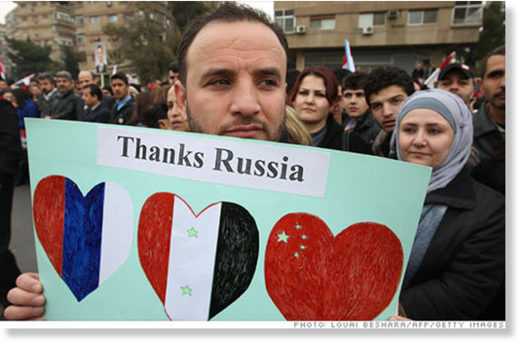 'If the terrorists again raise their heads, we will deal such blows to them they have never seen,'
Russian leader says
Vladimir Putin has ordered the withdrawal of Russian troops from Syria, Moscow's state news agencies are reporting.
The Russian leader made the announcement at the Hemeimeem air base in Syria's coastal province of Latakia, the heartland of Syrian President Bashar Assad's Alawite minority.
Accompanied by defence minister Sergey Shoygu,
Mr Putin said Russian and Syrian armies had achieved their mission to destroy Isis - "one of the most capable groups of international terrorists" - in just over two years.
He said the two countries' forces would respond with power strikes if "terrorists raise their heads" in Syria.
Addressing Russian servicemen gathered at the base, he said: "The task of fighting armed bandits here in Syria, a task that it was essential to solve with the help of extensive use of armed force, has for the most part, been solved and solved spectacularly. I congratulate you!
"You have shown the best qualities of a Russian soldier."
In the televised speech, Mr Putin said he had ordered the military to withdraw a "significant part" of the Russian contingent in Syria.
"Friends, the Motherland is waiting for you," he said.
"If the terrorists again raise their heads, we will deal such blows to them they have never seen."
Mr Putin, who confirmed last week he would seek re-election in 2018, also announced that Russia would keep its Hmeymim air base in the Latakia Province as well as its naval facility at Tartous "on a permanent basis".
The visit marks Mr Putin's first trip to Syria and comes as the Assad regime's forces have retaken control over most of Syria under Russian air cover.
The air base has served as the main foothold for the air campaign Russia has waged since September 2015 in support of Mr Assad.
Russia launched its air campaign in Syria at the end of September 2015 when Mr Assad's government was teetering on the brink of collapse and quickly changed the course of the conflict in its favour.