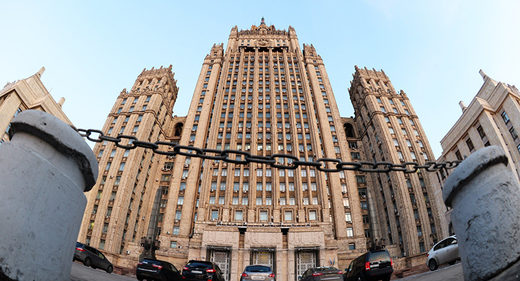 The Ministry of Foreign Affairs has sent a note to the US State Department in connection with the Mirotvoretz "Peacemaker" site. It publishes the personal information of journalists covering events in the Donbass, and has switched to US servers, TASS reported.
At the moment, there has been no response from the American side. This was reported to journalists on Thursday by Maria Zakharova, the Director of the Information and Press Department of the Russian Ministry of Foreign Affairs.
"We sent a note to the US Department of State, about the characteristics of the" Peacemaker " portal, and
this document contains a demand to deny US registration for it, as more than one journalist has suffered from the activities of this so-called peacekeeping site,"
she said. "There has yet been no official response to our appeal, but we will keep this topic under special watch."
"Feel the difference: this close surveillance of any step taken by the Russian media and the information they disseminate, is the maximum creation of an atmosphere of intolerance towards Russian media and [contrast it with] the absolute inaction with respect to a site whose activities are contrary to all norms of corporate ethics," she said.
The diplomat added that the actions of the site "Peacemaker" also undermine the status of journalists, who are "so carefully guarded by the entire world community", and threatens their security.
Site "Peacemaker"
The site "Peacemaker", associated with the Anton Gerashchenko, deputy of the Supreme Rada and adviser to the head of the Ministry of Internal Affairs of Ukraine, was created in the spring of 2014 to establish the identities of the militia of Donbass or people who help them. These are people who, in the opinion of the portal, could commit crimes against the national security of the country. Even such anti-Russian politicians as the leader of the Fatherland Party Yuliya Timoshenko and ex-president of Georgia, former governor of the Odessa region Mikhail Saakashvili were included in the number of the "objectionable."
In addition, the "Peacemaker" database contains personal data of journalists for RT, TASS, and also BBC, Reuters, AFP, CNN, Bloomberg, Al Jazeera, Associated Press, Independent newspapers, Libération and other media.
The information resources contain the names of the correspondents, the publications where they work, their positions, mobile phone numbers, e-mail addresses and dates of stay on the territory that is not controlled by the government of Ukraine. At the same time, media workers are accused of "complicity in terrorist organizations".
After a criminal case was initiated in early 2016 against the employees of the Peacemaker project, according to a statement by a group of Ukrainian and foreign journalists, and also in connection with the EU representative's requests for the blocking of the site and its data, the project was closed. But soon the site "Peacemaker" resumed its work despite the numerous protests.