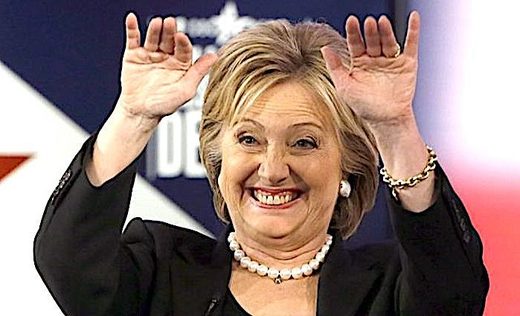 Crooked Hillary actually had the nerve to say Trump has "disgraced the office" for not apologizing to women he has 'sexually assaulted'.
HUH? What women? The liars who Gloria Allred paraded out before the election?
Politico
reported
:
Clinton said that Franken, who was accused this week of groping a female broadcaster in 2006, acted responsibly by owning up to his actions and publicly apologizing for them - a far cry from the response given by Trump and Moore, she said.

The former secretary of state and Democratic presidential nominee said Franken's request to have the Senate ethics panel investigate his sexual misconduct "is the kind of accountability I'm talking about."

"I don't hear that from Roy Moore or Donald Trump," she added during an interview with New York's WABC radio. "Look at the contrast between Al Franken, accepting responsibility, apologizing, and Roy Moore and Donald Trump, who have done neither."
It gets worse...
Hillary actually had the nerve to say that Trump "has disgraced the office" and that Moore "clearly doesn't appear to be someone who will bring respect and honor to the state of Alabama."
Disgraced the office? No one disgraced the office worse than her husband Bill Clinton (okay maybe Obama).
Hillary enabled her philandering husband while he sexually abused women for decades. Bill Clinton was impeached and perjured himself. He should have resigned in disgrace.
The Gateway Pundit's Kristinn Taylor previously wrote
Bill Clinton, and his colluding wife Sen. Hillary Clinton, rose to the pinnacle of U.S. political and cultural power by lying about and destroying women Bill preyed upon when he held public office as attorney general and governor in Arkansas and the presidency of the United States.
Read about the Clintons' decades of sexual abuse and enabling
here
.
The Clintons also
stole over 100,000 dollars worth of furniture
and goods from the White House when they left after defiling the place for 8 years. They were actually ordered to pay a settlement for the theft.
The Clintons continued to rape and pillage America while Hillary was Secretary of State.
Disgraced the office? The Clintons are a disgrace to America. Just go away already.
Crooked Hillary got torched. Even liberals attacked her!