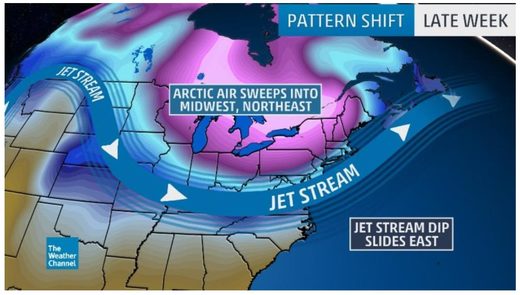 Old Man Winter is paying a strong visit to the Midwest and Northeast this weekend,
bringing the coldest air of the season so far
, smashing daily records from the Northern Plains to New England.
A pronounced southward dip in the jet stream has driven a cold front through the Midwest and Northeast.
This is bringing a blast of arctic air to portions of the northern tier, which will last into the weekend.
Coldest Air So Far This Season Arrives, Including Record Lows
As anticipated, Saturday morning is the coldest morning of the season, so far, in the Northeast, with record lows already being reported in two dozen locations, including:
Atlantic City, New Jersey (21 degrees)
Baltimore (21 degrees)
Boston (23 degrees)
Buffalo, New York (19 degrees)
Cleveland (20 degrees)
Erie, Pennsylvania (19 degrees)
New York City's Central Park (24 degrees)
Pittsburgh (17 degrees)
Syracuse, New York (16 degrees)
Washington D.C. (26 degrees)
Youngstown, Ohio (13 degrees)
According to the National Weather Service, Saturday morning's record low in Washington D.C. was their first in November since 1976.
Temperatures in the
single digits were reported as far south as southwest Pennsylvania's coldest spots
, Saturday.
Thanks to fresh snow cover, clear skies and light winds, International Falls, Minnesota, plunged to a low of 14 degrees below zero Friday morning.
This was the earliest-in-season the "Nation's Icebox" had ever been that cold, beating the previous record from Nov. 12, 1966, when they were 15 degrees below zero.
For information on the numerous daily record cold lows and cold high temperatures that have been set, see the bottom of this article.
The cold air is beginning to moderate as it lifts northeastward into Canada. Highs in the 30s or low 40s will be prevalent on Saturday in the Northeast, and 40s will return on Sunday.
Gusty winds are also expected
. The wind will make it feel even colder, with wind chill values in the single digits or teens in some areas of the Northeast Saturday.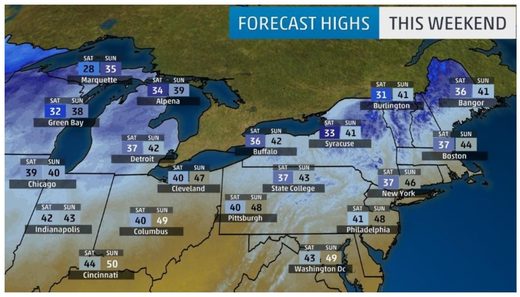 Low temperatures 10 to 20 degrees colder than average are anticipated
once again Sunday morning from New England to the Carolinas. That means lows in the teens and 20s are expected in New England, 20s in most of the interior Northeast, low 30s along the I-95 corridor from New York City to Washington D.C., with 30s or low 40s farther south into the Carolinas.
Daily record-low temperatures are once again a possibility Sunday morning in parts of the Northeast. Here's a look at the record lows to beat for Nov. 12 and the year they were set.
Albany, New York (15 degrees in 1976)
Allentown, Pennsylvania (21 degrees in 1926)
Bridgeport, Connecticut (28 degrees in 2013)
Newark, New Jersey (29 degrees in 1957)
These would be average lows one could expect around New Year's Eve rather than Veterans' Day.
Temperatures should gradually ease back closer to average mid-November readings by next week in the East but should warm back above average in the nation's mid-section.
Beyond that time, generally chillier weather will likely
return to the East into Thanksgiving week
, thanks to
increasing blocking of the jet stream taking shape near Greenland.
This is quite an abrupt reality check for the Northeast, parts of which had seen their
record-warmest fall-to-date
.
Record Cold Temperatures So Far
Friday, at least 50 daily record lows were either tied or broken from northern Minnesota to the New York City Tri-State area.
Among these November 10 records were five locations in the Upper Midwest that plunged below zero. In addition to the International Falls, Minnesota, coldest/earliest record mentioned above, Hibbing, Minnesota (-12 degrees), Duluth, Minnesota (-5 degrees), Pellston, Michigan (-5 degrees), and Merrill, Wisconsin (-1 degrees), each joined the subzero club, setting daily records.
Some of the other notable records on November 10 included Madison, Wisconsin (9 degrees), Chicago (18 degrees - tied), Detroit (19 degrees - tied), Pittsburgh (20 degrees - tied), Boston (24 degrees) and New York City's Central Park (25 degrees).
Record cold daily high temperatures were also set on November 10
for roughly a handful of Great Lakes cities including Lansing, Michigan (25 degrees), Buffalo, New York (29 degrees), and South Bend, Indiana (31 degrees - tied).
Daily record low temperatures were also broken on November 9
, including International Falls, Minnesota (13 degrees below zero), Grand Forks, North Dakota (9 degrees below zero), Duluth, Minnesota (0 degrees), Marquette, Michigan (8 degrees), Minneapolis-St. Paul (12 degrees - tied) and La Crosse, Wisconsin (17 degrees). Interestingly, the record low tied in Minneapolis was the
first record low tied or broken there since April 15, 2014
.
Temperatures were stuck in the teens and 20s in parts of the upper Midwest and northern Plains on Thursday.
This allowed numerous daily record cold high temperatures to be set Thursday
in International Falls, Minnesota (12 degrees), Hibbing, Minnesota (15 degrees), Duluth, Minnesota (18 degrees) and Aberdeen, South Dakota (21 degrees - tied).