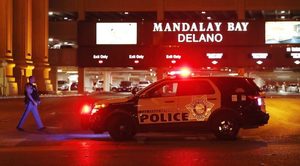 An eyewitness of the Las Vegas shooting massacre on October 1st claims to have heard gunshots fired on the ground floor of the Delano hotel after the gunfire from the Mandalay Bay had ended and both hotels went into lock-down.
Cited as both
Jake Freedman
or
Jack Friedman
in subsequent media reports,
the full audio statement provided by this eyewitness to ABC News
, who was a guest at the Delano, included key details left out by all media outlets who quoted his interview comments.
After witnessing the venue massacre from the Skyfall Lounge at the top of the Delano resort next to the Mandalay Bay, Freedman twice went downstairs to the ground floor.
The first time he went down, he saw pandemonium as people entered his hotel in search of safety from the venue. He then ventured downstairs a second time; probably some time after the massacre because he states that the ground floor of the Delano was at this time deserted.
He says that this time he
encountered police officers there who told him to "
run away
", after which he heard gunshots close by
, leading him to think that
police may have been "
dealing with the shooter
"
:
Transcript



"A little bit later, I got on Periscope and started broadcasting. I had a little over 10,000 viewers watching. I was down there when it was evacuated and there was nobody out there. Front desk was gone, it was totally like a ghost town. We met up with these other guys who were also looking, trying to find information.

We met up with these security guards and police officers who asked us what we were doing and told us to 'run away!' We heard gunshots from around the corner. We were in the Delano, right next to a walkway that connects the Mandalay Bay and the Delano.

We heard gunshots from right at that hallway, so we think that the police were dealing with the shooter while we were down there

."
With Paddock upstairs in suite 135-32 of the adjoining Mandalay, this would obviously not have been 'the' shooter but
another shooter or accomplice
. There is a report on
the first police scanner audio
(see 'Annex - Transcript of LVMPD police scanner') that potentially corroborates this eyewitness's testimony. At time-stamp 54:15, which I estimate to be roughly 11pm, a police officer describes a suspect at the Delano:
"We are near the Sports Book at Mandalay Bay. We have one male wearing a... WMA [white adult male] it looks to us... maroon or black shirt. [shouting in background] He didn't listen to us... in towards the Delano."
Recall Jake's description of the location where he heard these gunshots; inside the walkway linking the Delano to the Mandalay Bay.
The Sports Book Grill restaurant is located along this walkway
: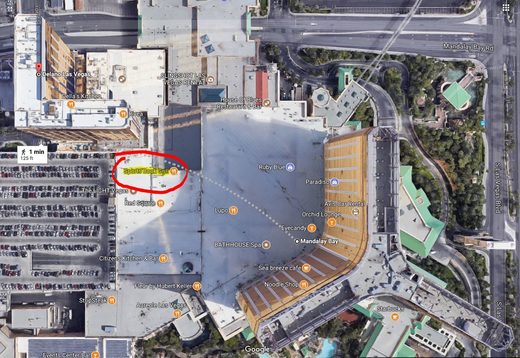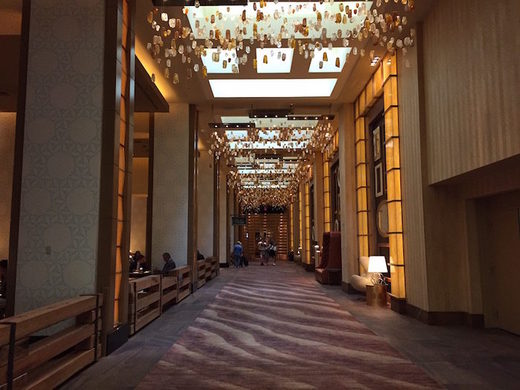 It appears that the Las Vegas police and the FBI have more questions to answer: did LVMPD officers encounter and shoot someone at this location? Did they wound this 'white adult male'? Did they kill him? If he was taken into custody, is he a suspect in the worst mass shooting in US history?