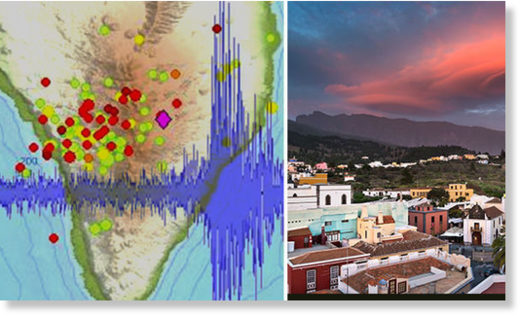 A shock map has been released by Spanish authorities showing where the tremors hit in the area surrounding the deadly Cumbre Vieja.
There were 44 earthquakes recorded up to 2.1 magnitude hit between Friday at 1.52pm and Saturday to 4.17am.

But experts believe the total number, including ones too small to be located, within the seismic storm was 352.

The quakes follow another seismic storm the weekend before. which saw around 50 tremors in three days, between 1.5 and 2.7 on the Richter Scale.
Experts from the National Geographic Institute are monitoring the site 24 hours a day .
Next Sunday a team of scientific workers will arrive in La Palma for CO2 profiles and to research the structure of the slope of the Cumbre Veija volcano.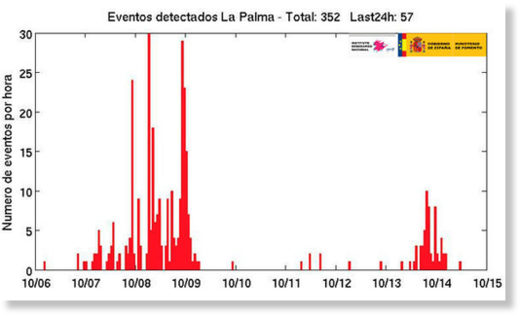 Studies follow fears raised the La Palma eruption would see the island collapse, sparking a
mega-tsunami to hit both Britain and America.
Experts from the University of California and University College London said if Cumbre Vieja - which active but dormant - were to come alive the western flank of the mountain could tumble in the ocean.
A wave could then form hurtling to the UK's south-west at up to 500mph.
This could see a 600 metre tidal wave crashing into Britain.
The authors of the report said: "The maximum impact would be felt in some key places in the Canaries... in La Palma, the city of Santa Cruz would be hit by two simultaneous flood waves with devastating consequences."