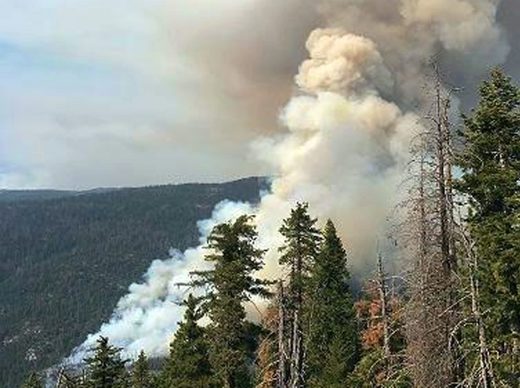 With a growing forest fire and more forecasted thunderstorms, fire officials have ordered the evacuation of this small town just inside the south entrance of Yosemite National Park.
The South Fork Fire, near the South Fork of the Merced River, has burned more than 2,900 acres since Aug. 13 and is only 10 percent contained, a fire official said Saturday. The fire intensified Friday night as a result of thunderstorm downdraft winds and several spot fires from that weather, according to Yosemite officials.
Residents and visitors must vacate by 4 p.m. Saturday, and that area spreads east from Highway 41 along Chilnualna Falls Road and Forest Drive. The Wawona Campground remains open, however Big Trees Lodge, formerly known as the Wawona Hotel, is closed due to Yosemite workers having to evacuate.
The tiny town swells in population to about 2,000 during tourist season. A Red Cross shelter is open at Tenaya Lodge in Fish Camp and a community meeting is scheduled for 6 p.m.
Aircraft have been dropping fire retardant on the blaze and 528 personnel have been assigned, including 13 hand crews, seven helicopters, 11 engines and three air tankers.
Fire officials are focused on protecting the nearby Mariposa Grove, which has the largest amount of Giant Sequoais in the park and is about a mile south of the fire.
A chance of thunderstorms will be possible over the Sierra Nevada each afternoon and evening into early next week, park officials said.