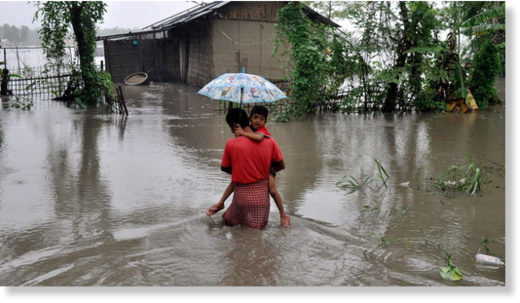 In what seems to be the state's worst deluge in three decades,
the death toll in the second wave of floods rose to 15, with 10 more deaths reported on Sunday. With over 10 *lakh people affected in the last 24 hours, the total number of flood victims shot up to 15 lakh across 21 districts in Assam. Over 85% of the Kaziranga National Park (KNP) was inundated.
More than 1.83 lakh displaced have taken shelter in 439 relief camps. Rescue operations by the Army, Indian Air Force, National Disaster Response Force and the State Disaster Response Force personnel are underway, said state project co-coordinator of Assam State Disaster Management Authority (ASDMA) Rajib Prakash Baruah. About 3,000 villagers were rescued and shifted to relief camps on Sunday, said defence PRO Lt Col S Newton.
Water from the Brahmaputra overflowed into KNP - crossing six feet in many places — forcing animals to flee in search of shelter to the neighbouring Karbi Anglong district. "We will be able to ascertain the number of animal deaths only after the water recedes," said Kaziranga divisional forest officer Rohini Ballav Saikia, adding that 148 out of 188 anti-poaching camps have been submerged.
Four rhino calves have been rescued so far, Saikia said.
Rail and road connectivity has been snapped in most places. At least 14 trains have been stranded at different locations. The inundation of NH 37 left hundreds of vehicles stranded on the highway.

The first wave of floods between April and July claimed 85 lives and affected about 19 lakh people in the state.
( *Lakh = 100,000)