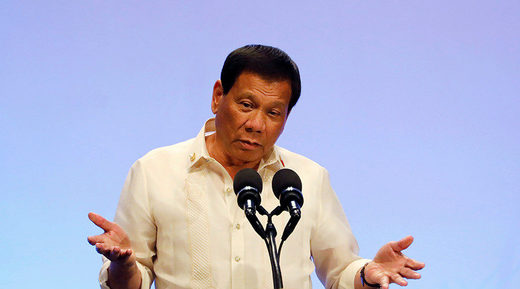 With the Philippines' War on Drugs - so far claiming up to 7,000 lives - in its second year, firebrand President Rodrigo Duterte now says his nation cannot fix the problem due to lack of equipment, difficult terrain and the brevity of his presidential term.
Duterte made the stunning remark while speaking to medical staff in Davao City on Friday, according to CNN Philippines. Lamenting difficulties of scaling down the drug problem, he argued that other nations had failed there too.
"Others can't do it. How can we? Those drugs, we can't control it," Duterte
admitted
.
The Filipino strongman, who came to power on the back of his promise to defeat drug lords and prevent his country from devolving into a "narco-state," complained that having a lengthy coastline was too much of a challenge.
It is difficult to protect Philippines shores and thousands of adjacent islands from illicit drug trafficking, Duterte said.
"We do not have the equipment, [it's not enough]. And you know the coastline," he added.
Earlier this week, he said time was too short for a one-term presidency to cope with the problem. "Look, [drugs] et cetera cannot be solved by one man for a president for one term," he said on Wednesday at a business forum, according to
Manila
Bulletin
.
He then compared the situation with that in the US, which - according to Duterte - is even worse.
"America is under siege because of drugs. And they are far worse than us. Yes, of course, they do not admit it," he said, claiming that President Donald Trump has even copied his language on drug abuse.
"Until now, I said, they're fighting a useless war there that never ends. And the sad part of it is that most of the drugs are provided by their good neighbors," Duterte added.
Last year, Duterte repeatedly made headlines by telling his supporters to kill drug kingpins, their henchmen and addicts, promising to defeat them within just six months.
"These sons of whores are destroying our children. I warn you, don't go into that, even if you're a policeman, because I will really kill you," he said last July. "If you know of any addicts, go ahead and kill them yourself as getting their parents to do it would be too painful."
The 72-year-old, who spent 20 years as mayor of Davao, was perceived by his supporters as a strongman and a much-awaited solution to crime, corruption and drugs. Recalling his time in Davao, he once said he ruled with a heavy hand.
"In Davao I used to do it personally. Just to show to the guys [the police] that if I can do it, why can't you," Duterte confessed last December. He said he would "go around in Davao with a motorcycle, with a big bike around, and I would just patrol the streets, looking for trouble also. I was really looking for a confrontation so I could kill."
Some other reports suggested his policies in Davao might have been more sinister. Documents released by WikiLeaks alleged that Duterte ran a vigilante group called the Davao Death Squad (DDS) responsible for extrajudicial killing of over 1,000 suspected criminals - a claim he vehemently denies.
The president's drug war is estimated to have killed thousands of people, drawing harsh criticism from rights groups. International NGOs including Human Rights Watch
cited
a total figure of more than 7,000 dead, while Amnesty International
called
Duterte "a human rights nightmare."
"Few leaders have so brazenly taken pride in their assaults on human dignity," James Gomez, Amnesty International's Director for Southeast Asia and the Pacific said.
"Not only have there been no credible investigations into the mass killings in the Philippines, or accountability worthy of the name, but Duterte continues to strut on the world stage, his reputation somehow intact."