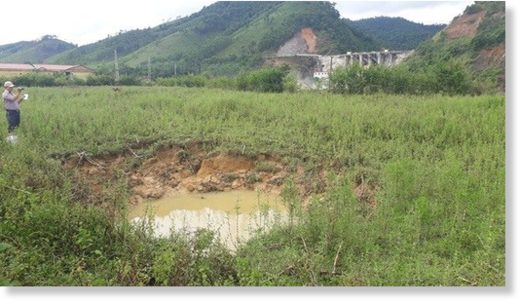 On the morning of July 31, the Department of Science and Technology of Quang Binh province organized a field inspection team of subsidence holes in corn field in Tan Duc village 3 (Huong Hoa commune, Tuyen Hoa, Quang Binh).
In early June, people in Tan Duc 3 hamlet in Huong Hoa commune found six big holes in a maize fields and reported to the local authorities. After nearly two months, the number of holes has increased to ten.
The local authorities examined the holes, which are located within an area of 300sq.m, on the right bank of the Ngan Sau River.
The biggest hole is 17m in diameter and 4m deep.
The holes are only about 800m from the dam of Ho Ho hydropower plant.
Locals have filled up some holes while some holes have expanded.
The local authorities claimed that this is a normal geological phenomenon and not related to or a risk to the Ho Ho dam.
Mr. Nguyen Duc Ly, Director of the Quang Binh Province Department of Science and Technology, explained that there is a fault zone in the area of Huong Hoa commune, with limestone below, which is under the impact of underground flows,creating underground pits, causing subsidence.
Mr. Ly advised people to stay away from the holes, adding that the local authorities would keep an eye on this phenomenon.
The Ho Ho Hydropower Plant is located in Huong Khe District, Ha Tinh Province, bordering Quang Binh Province. The plant was put into operation in 2010, but after the historic flood the same year it closed until early 2013. The plant has a capacity of 14 MW, with a reservoir of 38 million m3.