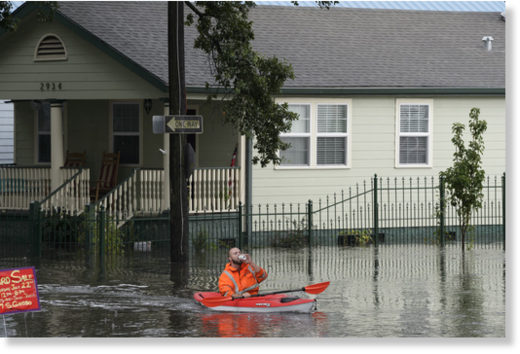 Quick heavy rains poured across metro New Orleans Saturday afternoon, dumping several inches of rain in a short amount of time.
A flood advisory was placed over New Orleans until 4 p.m.
According to a WWL-TV report,
the New Orleans Sewerage and Water Board said 4.22 inches of water fell over the metro area in a single hour, causing many roadways to flood.
By 3 p.m., New Orleans' emergency preparedness Twitter account,
@nolaready,
said the system was 'nearly stationary' over a large portion of the Uptown and Central Business District neighborhoods, with up to an inch of rain expected to fall.
The NOLA Ready Twitter account also reported flooding at the intersections of Tulane and Carrolton, Orleans and Broad, Paris and Burbank and Esplanade and Carrolton, while ProjectNOLA's Facebook page said significant flooding stretched throughout the Mid-City area towards Treme.
The city said all pumping stations are fully operational and able to handle pumping out an inch of rain in the first hour of use. After that, a half inch can be pumped out every hour.
Major flooding on Orleans near Broad. Knee high water.... pic.twitter.com/CpXjCLeAlo

— Duke Carter II (@dcarterII) July 22, 2017
Flooding on Orleans Ave. pic.twitter.com/a77eH2Azhu

— Duke Carter II (@dcarterII) July 22, 2017
Canal Blvd. underpass near the train tracks. (Video via Jennifer Vicknair) pic.twitter.com/yDwwIkpOkc

— WWL-TV (@WWLTV) July 22, 2017
More #flooding pics from #Lakeview. This is Filmore and Louis XIV taken at 3:11pm. Sent from Michelle Gedicke via Facebook pic.twitter.com/ibhMSh5uBN

— Alexandra Cranford (@acranfordwwl) July 22, 2017
#Metairie #flooding. This is Metairie Rd and Focis, taken at 2:35pm. Sent from Ashley Richie via Facebook. pic.twitter.com/43NidAdbTK

— Alexandra Cranford (@acranfordwwl) July 22, 2017