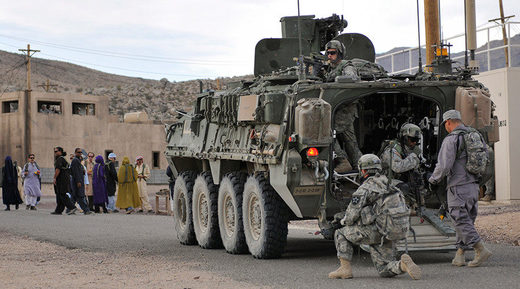 NATO Secretary General Jens Stoltenberg has confirmed that the alliance will send up to "a few thousand more troops" to assist the fight against the Taliban.
"Our military authorities have requested a few thousand more troops for the mission in Afghanistan and today, I can confirm that we will increase our presence in Afghanistan," Jens Stoltenberg stated ahead of the of NATO Defense Ministers meeting in Brussels on Thursday.

The secretary general did not, however, specify the scale of additional support, saying that alliance members "will end the day with a meeting of all nations contributing to our Resolute Support Mission in Afghanistan and we will discuss the future of NATO's presence in the country."
Stoltenberg also said that 15 out of 29 NATO members have "pledged additional contributions" to the Afghan mission, and more may join.
During his speech, the NATO chief emphasized several times that NATO forces are only "training, assisting and advising" their Afghan counterparts, while combat operations have already been completed.
"What we do now is not to conduct combat operations but to help the Afghans fight and to help the Afghans take full responsibility for the security in their own country."
More NATO support will be focused on three areas - strengthening the Afghan special operations forces, the development of the Afghan Air Force, and assistance to leadership and education of officers, according to Stoltenberg.

Comment: Hasn't worked for the last 15 years. Can't see why it will be any different now.


While the move is aimed to "break the stalemate" on the battlefield and pave the way for a political solution, the Taliban earlier warned against such steps, saying that peace cannot be negotiated during "the occupation."
Kabul has welcomed the decision, according to the deputy spokesman of the country's defense ministry, Mohammad Radmanish,as cited by AP.
"We are on the front line in the fight against terrorism," he stated, adding that the forces "need... 'expert' training, heavy artillery and a quality air force," according to the report.
Washington was reportedly planning to deploy 4,000 troops in addition to around 7,000 troops already on mission in Afghanistan, but NATO is waiting for the final decision.
There are total of 13,459 from 39 countries
contributing
to the NATO-led Resolute Support Mission (RSM).