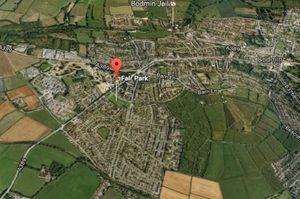 Residents in Bodmin were baffled after hearing a loud bang which left houses shaking and led to armed officers being called out.
People living mainly in the Fair Park end of the town say they were left frightened by the mysterious bang that was heard at around 5pm on Sunday afternoon. The source of the noise caused a debate on social media, with a firework, sonic boom and rook scarer among the theories.
Writing on the Bodmin Voice community page on Facebook, some residents said
the bang left their houses shaking, while others said the noise was so loud that they thought a car crash had occurred outside their properties.
The bang could be heard by residents living in places including Burden Close, Broomfield Drive, Foster Drive, Trelawney Road, Flamank Park, Monument Way, Whitestone Crescent, Old Market Place, Kinsman and Treningle View.
Adam Freeman believes the cause of the bang was a firework after seeing one go off near his house. "It was right outside my place, not sure why anyone would want to let them off in the day though," he said.
"I was in the garden and saw what either looked like a firework or a tiny rocket exploded above me in a cloud of smoke. It was so loud and scared the dogs." Others appeared to disagree, claiming such a loud bang couldn't have been caused by a firework.
Georgia Stanton said: "I've had a firework go off over my old house before and
it was nowhere near as loud as this! It vibrated through our room, my fiancé and I both sprung out of our seats and looked the window but couldn't see anything."

Police were informed about the noise. A spokesperson for Devon and Cornwall Police said: "A call reporting a loud bang, possibly gun fire in Bodmin, was made at around 5pm yesterday.
"An armed response vehicle attended the area and localised searches took place, but nothing was found. Units stood down at around 6pm."