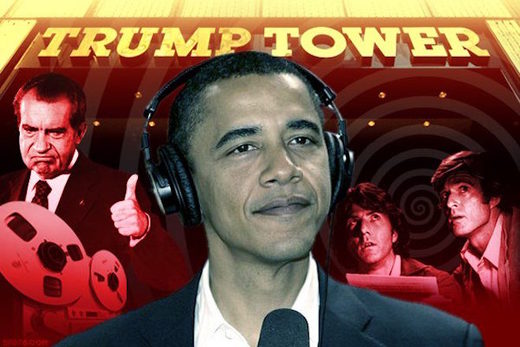 President Trump staff names were attached to the collected intelligence data, which could be a violation of law.
It appears President Trump was right, again...he was "wiretapped" by the Obama deep state.
House Intelligence Chairman Devin Nunes told reporters outside the White house...
"I have confirmed that on numerous occasions the intelligence community incidentally collected information about US citizens involved in the Trump transition."
Nunes noted...
"None of this surveillance was related to Russia, or the investigation of Russian activities, or of the Trump team."
According to Nunes, the surveillance data was gathered during November, December and January...
"I have seen intelligence reports that clearly show the president elect and his team were at least monitored and disseminated in what appears to be intelligence reporting channels."
Remember when on March 4,
President Trump took to twitter to accuse the Obama White House of having his Trump Tower headquarters' "wiretapped" prior to the 2016 presidential election. Trump called the wiretap a "new low."
The mainstream media was quick to denounce and condemn Trump's tweet and accusation of the holy Barack, but as with the
"Sweden" incident
,
Trump proved the "fake news" establishment media wrong once again.



Zerohedge reports
on the BOMBSHELL news that has the liberal crying and the Trump team saying, 'we told you so.'
Two days after FBI director Comey shot down Trump's allegation that Trump was being wiretapped by president Obama before the election, it appears that president Trump may have been on to something because moments ago Politico reported that according to the House Intelligence Chairman, Devin Nunes, "members of the Donald Trump transition team, possibly including Trump himself, were under surveillance during the Obama administration following November's election", he told reporters on Wednesday.

As AP confirms, Nunes said that President Donald Trump's communications may have been "monitored" during the transition period as part of an "incidental collection."

Nunes told a news conference Wednesday that the communications appear to be picked up through "incidental collection" and do not appear to be related to the ongoing FBI investigation into Trump associates' contacts with Russia. He says he believes the intelligence collections were done legally, although in light of the dramatic change in the plotline it may be prudent to reserve judgment on how "incidental" it was.

Nunes says the communications of Trump associates were also picked up, but he did not name those associates. He says the monitoring mostly occurred in November, December and January. He added that he learned of the collection through "sources" but did not specify those source

Politico adds that Nunes is going to the White House later Wednesday to brief the Trump administration on what he has learned, which he said came from "sources."