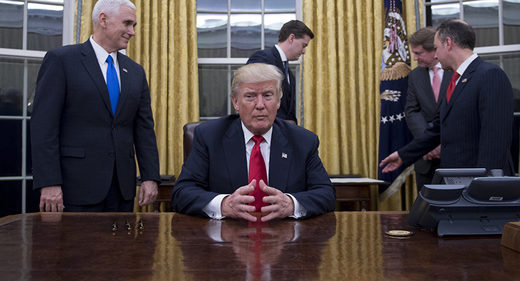 I had breakfast recently with a friend who's a
former Republican member of Congress.
Here's what he said:
Him: Trump is no Republican. He's just a big fat ego.

Me: Then why didn't you speak out against him during the campaign?

Him: You kidding? I was surrounded by Trump voters. I'd have been shot.

Me: So what now? What are your former Republican colleagues going to do?

Him (smirking): They'll play along for a while.

Me: A while?

Him: They'll get as much as they want - tax cuts galore, deregulation, military buildup, slash all those poverty programs, and then get to work on Social Security and Medicare - and blame him. And he's such a fool he'll want to take credit for everything.

Me: And then what?
Him (laughing): They like Pence.

Me: What do you mean?

Him: Pence is their guy. They all think Trump is out of his mind.

Me: So what?

Him: So the moment Trump does something really dumb - steps over the line - violates the law in a big stupid clumsy way ... and you know he will ...

Me: They impeach him?

Him: You bet. They pull the trigger.

Comment: Just breakfast conversation or was this information shared or leaked to Reich for a reason?



Robert Bernard Reich is an American political commentator, professor, and author. He served in the administrations of Presidents Gerald Ford and Jimmy Carter and was Secretary of Labor under President Bill Clinton from 1993 to 1997
The Conspiracy to Impeach Trump Already Launched
By Thomas Lifson
It should be crystal clear to all Americans that his political enemies are searching for any pretext to launch an impeachment effort to unseat President Trump, once they think it would have a chance of success.
Given the level of animosity toward Trump in his own party, and the possibility of midterm election losses for the president's party (the normal pattern in American politics), these efforts can't be dismissed as impossible.
We know about this secret conspiracy because of a leak to the
Washington Free Beacon
. Joe Schoffstall reports:
A confidential David Brock memo obtained by the Washington Free Beacon lays out the ways the Democratic operative plans to use his numerous organizations to take down President Donald Trump through impeachment.

Brock is currently at the Turnberry Isle Resort in Aventura, Fla. for a weekend conference with more than 100 major liberal donors. Attendees are mapping out a course to combat the newly sworn-in president.

According to the private and confidential memo, Brock plans to defeat Trump "through impeachment," using American Bridge, his liberal super PAC, as the main vehicle to do so.

"No other progressive organization has the resources and assets that American Bridge has amassed over the past several election cycles to hold Trump, his administration, and the politicians accountable," the 44-page confidential memo states.

"Only Bridge stands ready with staff already hired, Trump's web of business ties mapped out, and a massive video archive at our fingertips."

"The right will bolster Trump aggressively and deceptively. The campaign to stop him must be nonstop. At American Bridge, it has already begun."
If this sounds like a sales pitch, that's because it is. Brock functions only with the funding of rich leftists like George Soros and his allies, and his humiliating failure to deliver for them in the 2016 election leaves him no option but to escalate, in hopes the suckers donors will throw good money after bad.
The sales pitch presents a well-oiled machine already operating:
Within weeks of the election, Bridge launched a "Trump War Room," which has already scrutinized Trump's transition team and will continue to watch the personnel, policies, and practices of the administration.

The "state-of-the-art Trump War Room" will strive to "uncover details of Trump's affection for Russia and Putin." They are tracking Trump's foreign and domestic business partners, construction projects in foreign countries, and negotiations on potential future projects that he "could use to put personal profit ahead of our national security."

"With so many opportunities for foreign governments and corporations to gain influence over Trump, American Bridge will use every means at its disposal to hold Trump and his administration accountable—including FOIA requests, lawsuits, and regulatory complaints. As the progressive movement's political research clearinghouse, we will arm our allies to join us in taking on the administration through paid advertising, earned media, grassroots efforts, and legal recourse."

The group laid out its strategic plan for the next four years. The top outcome is to defeat Trump "through impeachment."

"The number of stories and the value of TV time for anti-Trump media coverage we generate will break all internal records," the memo states. "Multiple Trump nominations will become a drag on his administration due to the research we unearth. Trump's approval rating will remain historically low."
I have little doubt that the megaphone of the White House will be employed to publicize this memo. What are the odds that Brock will blame the Russians?
But the Vast Leftwing Conspiracy has been exposed laying out its plans in search of a pretext for all to see.
The left is counting on media support to make its case for impeachment work. But that is a diminishing asset for them, and the Trump administration has signaled that it is ready to help dispatch the ailing members as they collapse. I think it is time to ask prominent Congressional Dems if they are willing to condemn the effort to impeach before a pretext is even available.
Source: American Thinker