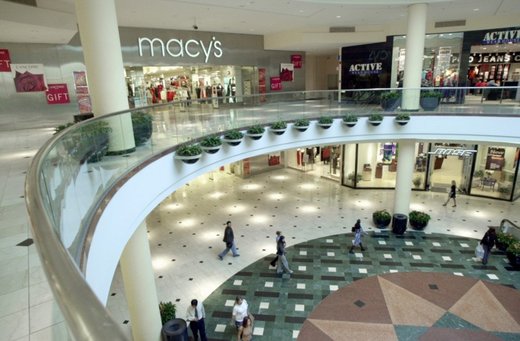 U.S. retailers have a problem they can't easily resolve: They have too many stores. And even though they've already announced slews of store closings, it's increasingly likely they'll have to shutter even more over the next few years.
That's especially the case as consumers keep shifting their spending online, which has left the U.S. awash in unwanted retail space, or "overstored."
According to real estate information firm CoStar, nearly 1 billion square foot of retail space will be "rationalized" in the coming years through store closures and conversions to other uses. Many retailers also are seeking rent reductions as their productivity has slumped from an industry average of $330 in sales per square foot from $350 per square foot a decade ago.
The level of "overstoring" may only get worse. Retail analyst Jan Rogers Kniffen expects about half of all retail sales to be online by 2030, a huge increase from current figure of about 10 percent.
"A lot of these retailers are still in denial," said Brian Yarbrough, a retail analyst at Edward Jones. "I think the Kohl's (
KSS
), the J.C. Penneys (
JCP
) of the world, they're in denial. At some point, there's probably not a need for 2,400 Kohl's and J.C. Penney's across the United States. There's probably not a need for 5,800 Walmart (
WMT
) Supercenters."
Officials from J.C. Penney didn't immediately respond to a request for comment for this story. A Kohl's spokesperson declined to comment beyond pointing to executive statements on earnings conference calls about "the importance of stores." Walmart spokesman Randy Hargrove said the company doesn't comment on analyst reports, but he noted that in October Walmart U.S. CEO Greg Foran said "next year you will see us put more capital allocation towards remodels versus new stores." Hargrove added: "We still see a need for supercenters."
Another major chain facing significant overstored conditions is Sears Holdings (
SHLD
). The struggling retailer has been closing stores and unloading assets for years to bolster its finances.
Here's a closer look at how these chains are dealing with store closings.
Macy's
(
M
) --
The country's largest department store chain announced plans in August to shutter 100 underperforming locations in 2017, about 15 percent of its brick-and-mortar footprint.
Macy's shed 41 locations last year and axed thousands of employees. Terry Lundgren, who had led the retailer for more than a decade, will step down next year from the CEO spot and become executive chairman.
Kohl's
-- After a rocky start to 2016 when it announced 18 store closures, the Wisconsin-based no-frills retailer rebounded and reported better-than-expected results in its most recent quarter. Kohl's, though, continues to struggle. Comparable-store sales in its latest period fell 1.7 percent, the third straight decline in this closely watched retail metric of sales at stores open a year or more, a worrisome sign for Wall Street.
J.C. Penney
-- CEO Marvin Ellison made headlines in March when he told
Fortune
he wouldn't undertake "any wholesale closings of stores in its 1,020-location fleet," though it did shutter seven locations.
The Plano, Texas-based retailer operates almost as many stores as it did in 2006, but its annual sales were roughly $7 billion higher back then than they were last year.
Ellison told the magazine that Penney's future lies in e-commerce and physical stores working together.
Walmart
-- With cost pressures in mind,
Walmart said in January that it would close 269 stores around the world
, including its small-format Express locations that were designed to compete against the dollar stores that have taken market share from the giant in recent years. Rising expenses are weighing on the world's largest retailer, which raised the salaries of thousands of hourly employees last year and unveiled a plan to spend billions on expanding its e-commerce operations
Sears Holdings
-- The Hoffman Estates, Illinois-based company has been floundering for years under the control of hedge fund tycoon Edward Lampert, who arranged the merger of Sears and Kmart that created the current company more than a decade ago.
This year it announced the shutdown of 68 Kmart stores and 10 Sears locations and accelerated the closing of 50 locations at the beginning of the year.
Sears has indicated that more stores may be shuttered.
"I am hard-pressed to imagine a scenario where Sears as constituted as anything we have known it will be around in 2018," said Jason Ankeny, editor of Retail Dive, a trade news site. He added that the Sears and Kmart brands "don't have any relevance and value for millennial consumers."
A Sears spokesman told CBS MoneyWatch critics underestimate the company. Said spokesman Howard Reifs: "We believe that we have sufficient resources to fund our transformation and meet all of our financial obligations."
The issue for all the big retail chains, however, remains a tough one:
Just how many stores will they really need as shoppers increasingly put things into their shopping carts -- digitally.