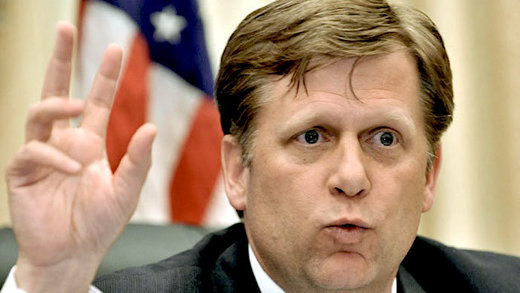 Former US Ambassador to Russia Michael McFaul has suggested registering RT and Sputnik news agency as "foreign agents," claiming that they supported Donald Trump during the presidential elections.
"We know that Russian-government-controlled 'media' outlets such as RT and Sputnik campaigned openly for one candidate, Donald Trump," McFaul wrote in his article for the
Washington Post
on Saturday.
The current law on foreign agents
(Foreign Agents Registration Act or FARA)
prohibits foreign government funding of US presidential candidates.
However, it
does not restrict the activities of the foreign media,
which are protected by the First Amendment to the US Constitution, regarding freedom of speech.
McFaul suggests this may be changed with regard to Russian media.
"We have laws preventing foreign governments from contributing financial support to candidates. Should we have
similar laws about in-kind support?
Such regulation seems hard, in tension with our First Amendment, but shouldn't our lawmakers wrestle with the issue?" he speculates.
He went on to ask
whether Sputnik and RT employees should "be accredited as journalists or as foreign agents under the Foreign Agents Registration Act?"
While blaming Russian news outlets for meddling in the US elections, he
offered no proof
that this actually took place, though he does mention that Sputnik tweeted with the hashtag #CrookedHillary.
In November, McFaul was prohibited
by the Russian Foreign Ministry from entering Russia for what it described as
purposeful damage to relations between Moscow and Washington.
In a Facebook post, however, he said that he was told he is "on the Kremlin's sanctions list because of close affiliation with Obama" and "will take that as a compliment."
Commenting on McFaul's
Washington Post
article, RT and Sputnik editor-in-chief Margarita Simonyan said his words may
stem from a personal grudge against both media outlets, as they often criticize him in their publications.
"In my opinion, McFaul may simply hold a grudge against us. We often criticize him, and criticize him fairly, I have to add, because we know few people who, while being in a position to improve the relations between the two countries, have
contributed so much to ruin these relations,"
she said.
"And McFaul is exactly the person, who, while being an envoy to Russia,
just as before and after it,
has done a great lot to brew an anti-Russian hysteria.
As you can see, he continues to do so." Simonyan described McFaul's actions as "undiplomatic," adding that he should understand that measures such as
threatening Russian news outlets are always bi-directional
, and if "something like that happens to our media in the US,
similar measures may be applied in turn to American media working in [Russia]."
"It's hard for me to predict
whether US authorities will ever resort to these [measures],
infringing on their own principles
and their much advocated freedoms, the freedom of speech and the freedom of the press."

Comment: No, not hard to predict. US authorities do not infringe on their own liberties, just the freedom and reputation of those not willingly bend to manipulation nor blindly accept, unfoundedly, censorship of speech and press. Does this sound like they have principles?


In recent months,
attacks on Russian journalists have been on the rise
both from the US media and from officials. US State Department spokesman John Kirby last month
refused
to answer a question from an RT journalist at a press briefing, adding he would not put RT employees in the same line with other media. The Russian foreign ministry spokeswoman
called
the "outrageous" incident
a "new form of segregation.
"Kirby is also known to have expressed similar views about the Sputnik news agency.
The
Washington Post
also recently targeted Russian media in an article in which it accused Sputnik and RT of bias and spreading
"fake news,"
but was forced to add an editor's note distancing the paper from a
dubious website, PropOrNot,
which it had initially endorsed as a group of nonpartisan experts on "Russian propaganda."
There have also been
attempts to limit the activities of the Russian media in the European Union.
Less than a month ago, the
European Parliament approved a resolution aimed at "countering Russian propaganda."
The document argued that Russia had provided financial support to opposition political parties and organizations in EU member states,
placing Russian media organizations alongside terrorist groups such as Islamic State (IS, formerly ISIS/ISIL).
Of the 691 MEPs who voted on the resolution, 304 voted in favor and 179 against.