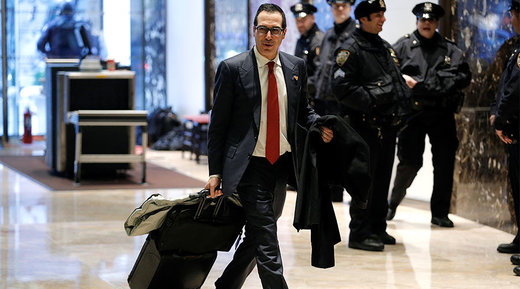 US President-elect Donald Trump is expected to select former Goldman Sachs executive Steven Mnuchin as his Treasury secretary as soon as Wednesday, media sources quote people familiar with the matter.
The 53-years old financier with no government experience but a broad background on Wall Street and in Hollywood served as national finance chairman for Trump's presidential campaign.
He was picked from among some other high-profile candidates, including JPMorgan chairman Jamie Dimon and Republican Jeb Hensarling, chairman of the House Financial Services Committee.
Before starting his own hedge fund Dune Capital Management in 2002 where he currently works, Steven Mnuchin spent 17 years at Goldman Sachs. He also funded a film production company, bankrolling hits like the X-Men franchise and Avatar.
Mnuchin reportedly earned about $40 million while working at Goldman.
The selection would still require Senate confirmation and marks the first major economic post filled by Trump.
If confirmed Mnuchin would become the first person with Wall Street experience to lead the Treasury since Henry Paulson, the former Goldman Sachs CEO who served under President George W. Bush. Paulson ran the Treasury during the turbulent initial stages of the financial crisis of 2008.
Donald Trump had been campaigning on a promise to dismantle the banking regulations introduced by the Obama administration in 2010. The rules should be re-examined, according to Mnuchin.
"We're not taking a position on whether we support that or don't support it. We're saying a lot of things need to be looked at. We think Dodd-Frank needs to be looked at. Obviously, there is an important concern of protecting depositors," Mnuchin said in a July interview with CNBC.
The financier previously backed Hillary Clinton and Barack Obama's Senate and presidential campaigns.
Comment:
More on Steven Mnuchin from the WSJ:
Despite his successful Wall Street career, Mr. Mnuchin has no experience running a massive organization—the Treasury Department has 86,000 employees—or in economic or financial policy-making. The biggest entity Mr. Mnuchin has run was the technology division of Goldman, which had over 5,000 employees.

Mr. Mnuchin's acquaintances describe him as smart, with several people calling him "nerdy." He regularly attends New York philanthropic galas. He has long held high-profile positions on charity boards and is a former director of the Whitney Museum of American Art. At an event for New York charity City Harvest in 2006, Mr. Mnuchin and his ex-wife were photographed with Mr. Trump. Mr. Mnuchin is now engaged to Scottish actress Louise Linton.

Mr. Mnuchin joined Goldman in 1985. He worked in the fixed-income department, eventually overseeing trading in mortgages, U.S. government, money market and municipal bonds. He made partner in 1994. Mr. Mnuchin later became the firm's chief information officer.

When Goldman converted into a publicly traded company in 1999, Mr. Mnuchin, like other partners, made millions. He later bought a 6,500-square-foot apartment in 740 Park Avenue, a storied Manhattan co-op built by Jackie Kennedy's grandfather that is known as the "billionaires' building."

At a recent conference, Goldman CEO Lloyd Blankfein called Mr. Mnuchin a "highflier, a partner at a young age. He did very well. He is a smart, smart guy."

In 2002, Mr. Mnuchin left Goldman and later was hired to run a credit fund set up by billionaire George Soros.

In 2004, Mr. Mnuchin and two former Goldman colleagues founded hedge fund Dune Capital Management LP with financial backing from Mr. Soros. Dune soon expanded into the entertainment business, striking up a film-financing deal with a unit of 21st Century Fox. Among the films Dune financed was "Avatar," one of the all-time box office hits.

21st Century Fox and News Corp, parent company of The Wall Street Journal, share common ownership.

In 2008, IndyMac Bank in Pasadena, Calif., collapsed in one of the largest bank failures in U.S. history. Mr. Mnuchin led a group of investors, including funds run by Mr. Soros and other hedge-fund and private-equity titans, who bought it from the government for about $1.5 billion. The Federal Deposit Insurance Corporation agreed to cover a portion of any future loan losses, a lucrative arrangement for Mr. Mnuchin and his partners. Regulators who negotiated with Mr. Mnuchin found him to be the kind of detail-oriented person who would "know the cost of every pencil," according to a person familiar with their thinking.

Mr. Mnuchin, who became chairman of the renamed OneWest Bank and CEO of its parent company, relocated to Los Angeles and bought a mansion in the Bel Air neighborhood.

The deal soon became controversial. In 2011, community activists descended on Mr. Mnuchin's Bel Air home to protest over the possible eviction of a homeowner who was behind on her mortgage payments to OneWest.

In 2014, OneWest was sold to CIT Group Inc., earning Mr. Mnuchin and Dune hundreds of millions of dollars in profits, according to a person familiar with the matter. He later pocketed $10.9 million in severance payouts when he left the company.

Despite the huge profits, OneWest's legacy continues to trail Mr. Mnuchin, who now sits on CIT's board and owns more than 1% of its shares.

A portion of OneWest's mortgage business is under investigation by the Department of Housing and Urban Development. Last July, CIT said it was forced to take a $230 million charge as it cleaned up accounting problems at OneWest. And two California housing groups this month accused OneWest of discriminating against minorities by not putting branches in their communities.

Meanwhile, 14 years after leaving Goldman, Mr. Mnuchin remains in the firm's orbit, showing up at alumni events and involving other ex-Goldman executives in his finance deals.

He has continued to work those angles as Mr. Trump's finance chairman, a post he assumed in May. Mr. Mnuchin negotiated a joint fundraising agreement with the Republican National Committee, easing the way for major donors to give both to the party and to Mr. Trump. The committee's chairman, Lewis Eisenberg, is a Goldman veteran and contemporary of Mr. Mnuchin's father.
Donald Trump is also planning to tap 78-year-old billionaire Wilbur Ross to head the Commerce Department,
a Republican source told Reuters on Tuesday. The chairman of WL Ross & Co is known for his investment in distressed industries. Ross advised the President-elect on economic policy during the campaign.
The billionaire backed Trump, repeatedly criticizing the Trans-Pacific Partnership agreement, as well as the North American Free Trade Agreement (NAFTA) with Canada and Mexico. Ross blamed NAFTA along with the entry of China into the World Trade Organization for causing massive US factory job losses.
"I think there's a big difference between the impact of trade agreements on corporate America and the impact on Mr. and Mrs. America. Corporate America has adjusted to them by investing lots of capital offshore," Ross said in an interview with CNBC earlier this year.