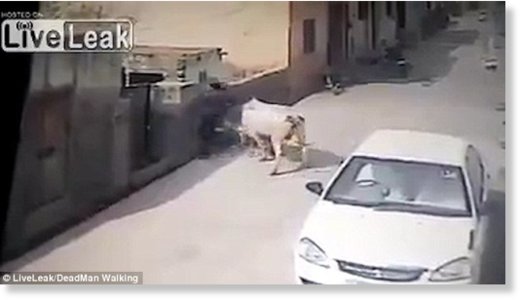 This moody cow decided to take some frustration out on an innocent bystander while it was having a stroll down an alleyway.
The footage, shot in Pakistan, shows a man stood talking on his mobile phone next to a wall.
Wandering the streets of its own accord, the cow is seen heading down the same alleyway, seemingly minding its own business.
However, it clearly takes a disliking to something the man is doing, and pauses behind him.
After a couple of seconds of consideration, the cow instigates its vicious attack by digging its horns into him and catching the man, who has his back turned, completely unawares.
The animal pins him up against the wall and then then sends him flying through the air with an almighty flip of its head.
He does a complete somersault in the air before crashing down with a painful-looking landing on his side.
Fortunately, the man is able to pull himself to his feet without any evidence of major injury.
As the cow continues on its path, he is left to pull himself to his feet and look around, cutting a rather confused figure.
It is not clear when the incident took place, but it was uploaded to
LiveLeak
yesterday.