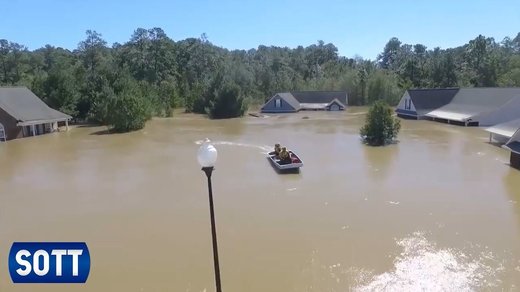 While all eyes last month were on the most extraordinary build-up to a US election, Earth Changes continued apace.
The curtain-raiser in October 2016 was Hurricane Matthew, which left a swathe of destruction across Colombia, the Caribbean and the US East Coast. The strongest North Atlantic storm in a decade, Matthew was also the strongest storm ever recorded so close to the equator, dumped so much water that it broke rainfall records wherever it went, and cost over $10 billion in damages. Haiti, where over 1,600 people were killed, bore the brunt of it.
Extreme weather is so 'normal' now that South Carolina last month recorded its
seventh
'1-in-1,000-year' flood event in just 6 years, beating rainfall records set in... September 2016. While much of the US saw record-breaking warm temperatures for October, copious amounts of snow across Russia meant that the northern hemisphere's snow cover extent by late October was second only to that recorded in 1976.
We also have a dozen mind-blowing meteor events in this month's video, a reflection of what we suspect is another end-of-year uptick in 'space visitors'. As we
reported at the beginning of the year
, fireballs have significantly increased over the last decade, and the skies become especially 'illuminated' during the latter half of each year.
These were 'the signs' in October 2016...
Watch it on Sott.net's
Vimeo channel
:
Music used: 'Escape from the Temple' by Per Kiilstofte. Licensed under Creative Commons Attribution 4.0 International
To understand what's going on, check out our book explaining how all these events are part of a natural climate shift, and why it's taking place now:
Earth Changes and the Human-Cosmic Connection
.
Check out previous installments in this series - now translated into multiple languages - and more videos from SOTT Media
here
,
here
, or
here
.
You can help us chronicle the signs by sending your video suggestions to sott@sott.net