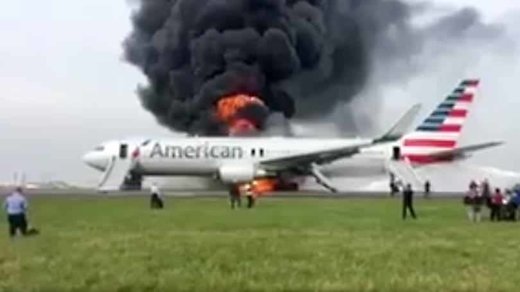 An American Airlines plane caught fire on the runway at Chicago's O'Hare Airport moments before it was set to depart Friday, injuring at least 20 people, officials said.
The plane blew a tire and aborted its takeoff just before the flames ignited at 2:35 p.m. officials with the Federal Aviation Administration
tweeted
.
Everyone aboard American Flight 383 for Miami rushed off the aircraft as firefighters rushed to the scene.
"Emergency Aircraft down at O'Hare," the Fire Department said in a
statement on Twitter
.
The FAA was investigating Friday afternoon.
Among those hurt, at least two people suffered serious but not life-threatening injuries, Chicago's ABC News affiliate station, WLS-TV, reported.
All 161 passengers and nine crew members made it off the burning Boeing 767 jet, representatives for the airline said in a statement.
The aircraft had an "engine related issue" rather than a blown tire, according to the airline.
But the FAA cited the blown tire reported by flight crew as the reason the plane ended its takeoff while rolling down the runway.
Passenger Hector Cardenas told
the TV station
he
heard an explosion after the plane set off from the terminal.
"Within 10 or 15 seconds we would have been in the air,"
Cardenas said.
Footage from WLS-TV showed the jet on the ground with flames and large clouds of black smoke billowing from one side of the aircraft, which had its emergency slides deployed.
The plane was fully loaded with 43,000 pounds of jet fuel, which was leaking when fire crews reached the aircraft, Chicago Fire Commissioner Timothy Sampey said.
"So they had a heavy volume of fire on both the engine and the entire wing," he said. "This could have been absolutely devastating if it happened later."
Sampey confirmed the incident began with a fire in the right-side engine.
A few hours later, at 6:30 p.m. another plane in Fort Lauderdale, Fla., caught fire while landing.
A FedEx cargo plane collapsed on touchdown when its landing gear malfunctioned.
The fire was quickly extinguished and both FedEx pilots were safe, the company said.