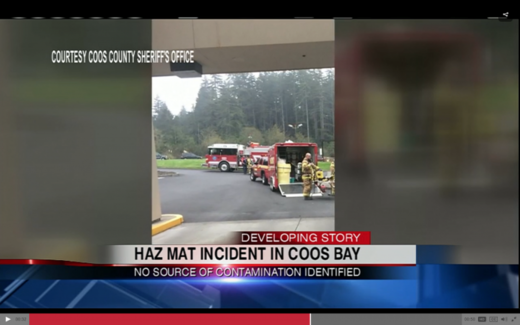 Just this week, the Coos County Sheriff's office reported that five people fell ill from an unknown hazardous material AND that it appears to be spreading by contact and causing hallucinations.
The issue began with a 3 a.m. phone call to the police about someone vandalizing a car:
A 57-year-old woman reported someone vandalizing her vehicle around 3 a.m. outside the home where she works as a caregiver for a 78-year-old person, in North Bend, Oregon.
A deputy checked the area and found nothing.
Deputies were then called back at 5:30 a.m. by a similar report.
This time, the deputies suspect the woman is having medical issues which are causing her to hallucinate.
The woman is taken to Bay Area Hospital for examination. Medical personnel check her and send her home.
Then, one of the deputies begins showing similar symptoms and is hospitalized.
Then the other deputy, the 78-year-old cared for by the initial patient, and a hospital employee begin showing similar symptoms and are hospitalized.
WHAT?
A Haz Mat team was sent into Bay Area Hospital and the initial patient's residence (where they found no contaminates), and they were able to clear the emergency room and provide a protocal to the sheriff's office to decontaminate vehicles and equipment. Also, everyone involved is being quarantined while the investigation is ongoing.
From the article:
"Officers and medical person are all responding well to current treatment," Sgt. Pat Downing wrote in a press release. "Nothing has been found in blood samples at this time. Repeat: source of contamination has not been identified. Investigation and processing is continuing."
The investigation is ongoing but we will update you as we receive more information.
Source:
KCBY