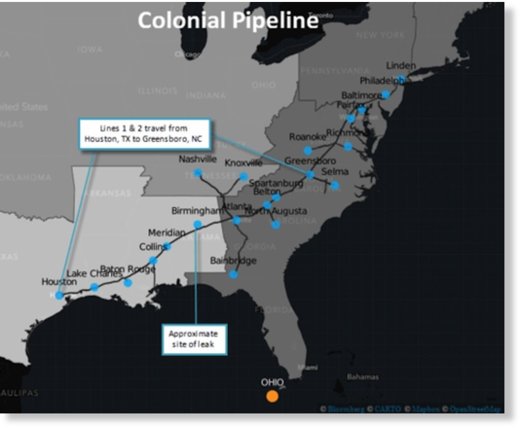 This whole situation keeps getting worse and worse. It seems to be growing by the day. When Colonial Pipeline originally announced the leak, it was reported that a mere 1,000 barrels of gas had leaked, or said another way, approximately 45,0000 gallons. It was then increased to 250,000 gallons - more than a 5 fold increase. Now it has reached more than an 8 fold increase from the original estimate. Do they actually know how much damage has been done and do they know how much gas has leaked out?
The Sept. 9 break has leaked 6,000 barrels (approximately 250,000 gallons) of fuel into Shelby County, Alabama, the operator estimated, up from its original estimation of 1,000 barrels. The cause of the leak is currently unclear. Source
The more I dig into this gas pipeline leak situation the worse it gets.
As we
reported yesterday
the Colonial Pipeline that pumps gasoline from Houston, Tx to southern New York state became damaged on Friday September 9, 2016. Major news sources didn't begin reporting this incident until Tuesday, September 13, 2016 and national news services first reported on it beginning Friday September 16, 2016 a full week later.
Somewhere between regional news and national news coverage of a 250,000 gallon leak in south central Alabama the governors of Alabama and Georgia
announce
there is a state of emergency. The leak is outside Birmingham, Al and the gas would have some area to cover to reach Georgia. So far this whole situation is beginning to smell funny and it's not just the gas fumes.
As reported by
CNN
A section of the Colonial Pipeline, which runs from Houston to New York, has been closed since Sept. 9 after a spill of roughly 250,000 gallons was discovered in rural Shelby County, Ala.

The major pipeline, one pipe of which has been severed, provides gasoline for an estimated 50 million people on the East Coast each day, according to company estimates. The cause of the leak has yet to be determined, according to the company's most recent statement.
Then we find this tweet from Javier Blas, Chief Energy Correspondent at Bloomberg News. I write about oil, gas, mining, agriculture and commodities.
From
Bloomberg
:
"The thing is that there is a time pressure. No one is exactly sure when the pipeline will be completely fixed," Patricia Hemsworth, senior vice president at Paragon Global Markets in New York, said by message.

Colonial is delivering some gasoline through a pipe that typically carries jet fuel and diesel, though the company hasn't said how much. The U.S. Environmental Protection Agency temporarily lifted requirements on fuel quality amid what it described as "extreme and unusual fuel supply circumstance," and Georgia, Alabama and North Carolina governors lifted rules that limit how many hours fuel truckers can work. A tanker carrying fuel from the Houston area to New York has been rerouted to Savannah, Georgia, according to ship-tracking data compiled by Bloomberg.

Red Alert

North American fuel distributor Mansfield Oil Co. on Thursday urged its customers to take fuel-saving measures over the next week and place orders early as its supply distribution network was impacted from Mississippi to Maryland.

"Mansfield's Supply and Logistics Teams are meeting daily and treating this situation with the same importance and urgency as a natural disaster and moving to Red Alert," the company said in its online daily newsletter to customers.

Prices may rise as much as 15 cents a gallon over the next week in parts of the eastern U.S. due to the shutdown, Patrick DeHaan, an analyst with GasBuddy, said in a tweet.

"It's likely to get worse before it gets any better," he said by phone. "It's really a race against the clock — will there be gasoline available to replenish those terminals before they draw down?"

Retailers in Nashville and Atlanta were required to sell summer-grade gasoline, which carries a lower vapor pressure than fuels used in the winter, through Thursday. The EPA is waiving the federal mandates to distribute the fuel with low volatility amid the regional shortages.
And now we learn the situation has moved to a "Red Alert" status. You know I'm not the sharpest tool in the shed, but whenever someone uses the phrase "Red Alert" that usually gets my undivided attention.
So far this is what we know.
250,000 gallons of gas leaked out of severed pipeline that supplies gas to 50 million people
spill could actually be 336,000 gallons a full 30% more than is being widely reported
the accident occurred approximately 4 days before the first reports began hitting the wire and a full week to hit national coverage
the situation has moved to a "Red Alert" and the repairs are ongoing and it is unclear when they will be complete
the states of Alabama and Georgia have declared a state of emergency
Now we learn there is
30% more gasoline on the ground
, which makes sense, otherwise, what does Georgia have to do with a gas spill in south central Alabama?
According to
AL.com
The latest update from Colonial Pipeline states that federal, state and company officials have cleared crews to begin the excavation process, which they had not previously been able to do because of the dangerous conditions created by pooled gasoline and fumes.

Colonial Pipeline also raised its estimate of the size of the spill. The company announced last week that the spill leaked around 6,000 barrels of gasoline, which is 252,000 gallons. They now say the leak is likely between 6,000 and 8,000 barrels, which is 336,000 gallons. A barrel is 42 gallons.

The pipeline was shut down Sept. 9, when the leak was confirmed. Colonial says the flow of the leak is greatly diminished, and temporary plugs have been installed on either side of the leak to minimize the impact.
Got preps? If you live anywhere along the East Coast between Houston and southern New York state and as far west as Nashville, Tn I would strongly suggest picking up a couple of 5 gallon gas containers and getting them filled right away. Of course, you should do this when you fill the tank of your vehicle(s). Good luck everyone and hopefully the lies will begin to subside and we can find out what exactly is going on - how bad the damage really is and when this pipeline will return to full service. In the meantime, it might be wise to gather as much gas as possible.