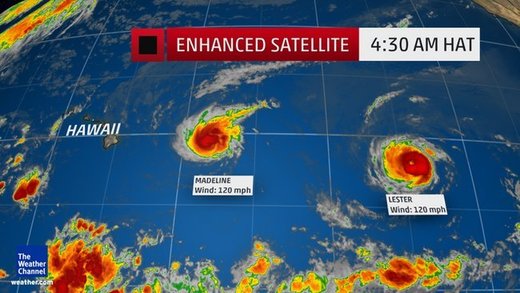 The National Weather Service says Hurricane Madeline could come dangerously close to the Big Island by Wednesday and may have impacts worse than Tropical Storm Iselle in 2014.
"This looks like potentially the strongest tropical cyclone, which includes hurricanes and tropical storms, to approach very close to the coast in the past several years," said meteorologist Chris Brenchley with the Central Pacific Hurricane Center.
Tropical Storm Iselle toppled hundreds of Albizia trees on the Big Island and caused an estimated $79 million in damage.
"The time is now to prepare," said Brenchley.
On Monday night, federal, state and county agencies on the Big Island gathered at Hilo's Emergency Operations Center to discuss preparedness plans.
"We're thinking things in the worst case scenario," said Ed Teixeira with Hawaii County Civil Defense. "We all have a tendency to think that the storm is going to weaken and old timers believe our mountains are going to be a buffers."
Meanwhile, residents and businesses aren't taking any chances.
KTA Super Store in Hilo was packed with shoppers stocking up on food and water.
"I just want to be prepared in case electricity and water are out for a couple days," Karen Tonita said.
On Oahu, the City Mill in Kaimuki set up a table filled with Hurricane Preparedness tools.
"When we get a hurricane warning, you tend to see a lot of people come in and immediately grab the flashlights," said employee Jessica Varin Swiss.
City officials say they are monitoring trouble-prone areas, mainly those close to streams.
In July, Tropical Storm Darby flooded several roads and properties when the Kalihi stream overflowed.
"We've been engaged in preparing our base yards, vehicles and equipment to be able to respond to any issues as they arise," said Ross Sasamura, Director of the Department of Facility Maintenance.
With Hurricane Lester on Madeline's heels, officials say this a fair warning for everyone to be prepared as the holiday weekend approaches.
"Take your preparations very seriously," said Teixeira.
Hurricane Lester will mark the 7th system to enter the Central Pacific basin this hurricane season.