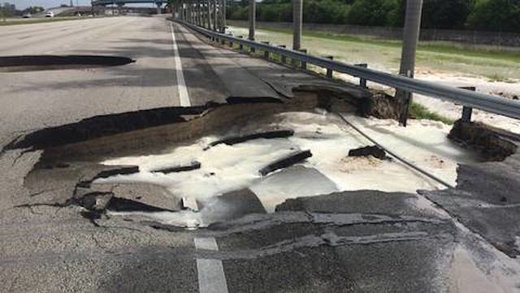 Two giant holes opened up Saturday afternoon in the southbound lanes of Florida's Turnpike near Hard Rock Stadium, snarling traffic and closing lanes and two exits.
Crew continued to repair the sinkhole-like openings early Sunday morning and lanes reopened after 10 a.m.
"No one was hurt. That is our mission, said Joe Sanchez, a spokesman for the Florida Highway Patrol.
"Can you imaging a car, doing 75 miles per hour, running into this?
The openings aren't natural-occurring sinkholes because they were caused by a broken water line under a southbound section of the turnpike just north of Northwest 199th Street in Miami-Dade County.
Southbound traffic iwas diverted to the Homestead Extension (821) of the Turnpike. The 2X (NW 199th St.) and 4X (County Line Road) exits were shut down.
FHP said it was notified of the holes at 1 p.m. Saturday. There were no immediate reports of damage to vehicles or injuries related to the holes in the highway.