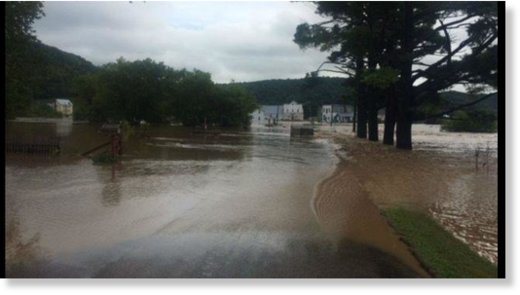 Flash flooding in parts of Wisconsin and Minnesota washed out roads, caused mudslides and prompted several water rescues
after more than seven inches of rain fell in some areas Thursday.
Motorists were stranded in the floods, and there were also reports of basement collapses in the Minnesota towns of Willmar and Olivia, according to the Associated Press.
"If you talk to the experienced, or old-timers here, nobody's ever seen it rain quite like this in that short of time," Willmar Public Works director Sean Christensen told the AP.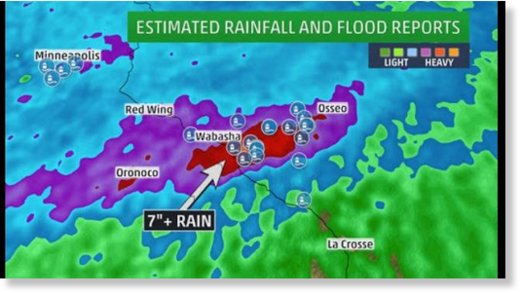 Willmar residents were asked to stay home Thursday due to the flooding, and because the city's wastewater treatment plant was overwhelmed, residents were asked to limit their water use until further notice, the AP also reported.
"I'm afraid people were praying for a little bit of rain too much and it all got here all of a sudden," Christensen told the AP.
In Gilmanton, Wisconsin, water rescues were performed after rising waters flooded homes along a creek, Bill Graul of WKBT-TV reported.
According to the National Weather Service,
there were reports of mudslides and landslides near the border of Wisconsin and Minnesota, where floodwaters have undermined several roads. Floodwaters also washed out some bridges, and in northern Buffalo County, Wisconsin, highways 37 and 88 were closed.
Travel advisories have been issued by the NWS-La Crosse, particularly in Wabasha, Trempealeau, and Buffalo counties, where many rural roads were washed out.
States of emergency were declared in Buffalo and Trempealeau counties due to the flooding, the AP also said. In Independence, some homes and businesses were voluntarily evacuated as the water rose, the report added.
We've seen mudslides, tree damage near Wabasha & Elba. Please drive with caution. Here's Hwy 61 south of Lake City pic.twitter.com/ly1HpuElvp
— MnDOT District 6 (@mndotsoutheast) August 11, 2016
In Trempealeau County, Highway 93 dropped more than a foot in the northwestern part of the county after flooding washed out a culvert, NWS-La Crosse also reported.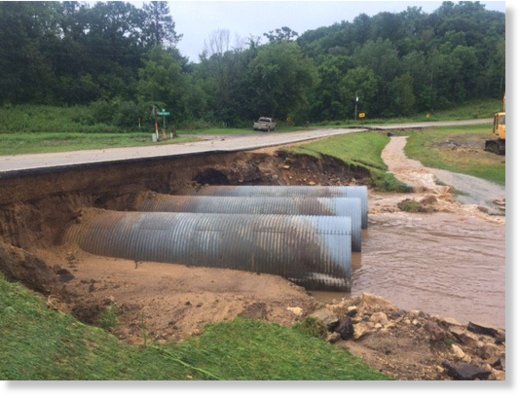 Culvert washout on WIS 88 (Buffalo County) north of County U, south of Gilmanton. Crews are out assessing damage. pic.twitter.com/GIhRJoXQXU
— WisDOT NW Region (@WisDOTnorthwest) August 11, 2016
In Minnesota, the Department of Transportation reported mudslides and tree damage near Wabasha and Elba.