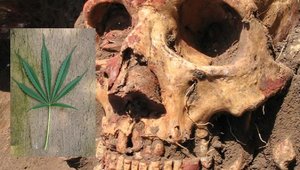 The nomad tribe known as
the Yamnaya
, who were among the founders of the European civilization,
may have been the first pot dealers
, archaeologists say. Moreover, they were responsible for the first transcontinental trade of cannabis.
The tribe of nomads came from the eastern Steppe region,
which is nowadays Russia and Ukraine
, and entered Europe about 5,000 years ago, bringing with them herding skills, metallurgy and even the Indo-European languages. According to a recent analysis, they were also responsible for introducing marijuana and establishing the first transcontinental trade of the herb.
According to
Seeker.com
, the research carried out by specialists from the German Archaeological Institute and the Free University of Berlin, involved a systematic review of archaeological and paleo-environmental records of cannabis fibres, pollen and achene across Europe and East Asia. During the study, they concluded that the herb was not first used and domesticated somewhere in China or Central Asia.
Rather, it was used in Europe and East Asia at the same time - between 11,500 and 10,200 years ago
. As Tengwen Long and Mayke Wagner at the German Archaeological Institute, and Pavel Tarasov at the Free University of Berlin, and colleagues wrote in the
journal Vegetation History and Archaeobotany
:
"Cannabis seems to have grown as a component of natural vegetation across Eurasia from the early Holocene''.
Continue reading on
Ancient Origins
.