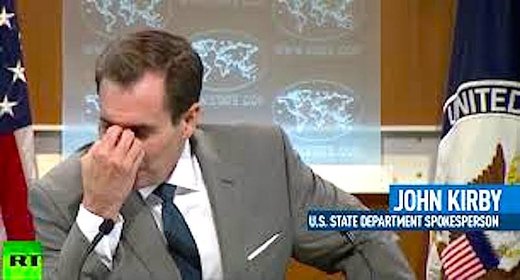 The United States says three of its officials operating in Nicaragua have been expelled from the country, warning that the move could harm trade relations between Washington and Managua.
US State Department spokesman John Kirby said Thursday that the American officials, who had only recently arrived in Nicaragua, were kicked out of the Central American country on Tuesday.
Kirby told reporters that the action was "unwarranted and inconsistent with the positive and constructive agenda" it seeks with Managua.
"Such treatment has the potential to negatively impact US and Nicaraguan bilateral relations, particularly trade," Kirby said.

Comment: Trade relations means control by big US corporations.


"We've conveyed our strong displeasure," Kirby said, referring specifically to Francisco Campbell, Nicaragua's ambassador to the United States.
"We believe it was unwarranted and inconsistent with the positive and constructive agenda that we seek with the government of Nicaragua," he said of the expulsion.
The Nicaraguan government has said two of the US officials were engaged in anti-terrorism activities without permission from the Nicaraguan government.
The US officials' anti-terrorism activities "were carried out without the knowledge or the proper coordination with Nicaraguan authorities, which is ... very delicate and sensitive" said Campbell, the Nicaraguan ambassador.
Relations between Nicaragua and the United States have been strained since leftist President Daniel Ortega came into office in 2007.