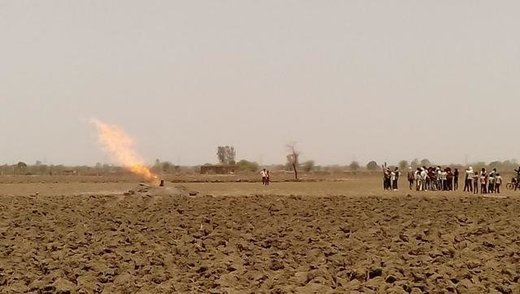 Panic gripped the Mandi Bamora village in MP's Vidisha district on Thursday when flames as high as 20 feet began to emanate from below the earth's surface during the boring of a tubewell on Thursday.
The flames have been emanating continuously since then.
The district administration called a fire brigade to put off the flames but in vain. A barricade has been placed around the spot and policemen have been deployed to restrict people from venturing near the spot.
On Thursday morning, Rajkumar Sahu of Mandi Bamora village brought a boring machine at his farmland for the boring of a new tubewell.
When the boring work reached a depth of 400 feet, suddenly flames began to emanate with force, causing panic among the locals
. Thereafter the people began to pour water into the borewell to put off the fire but to no avail. The boring machine operators fled the spot and soon the news spread wildfire in the whole area.
On Friday the district administration officials inspected the spot and ordered the area be secured to prevent any major mishap. However, since Thursday morning the spot has become a matter of curiosity as well as panic among the locals. Some are terming the incident as a miracle of nature while others say it is the wrath of local deities.
This is third such incident in which flames emanated during boring of a new tube well in the Mandi Bamora area
. Earlier on January 30 this year, flames had come out while a tubewell was being bored near Mandi Bamora railway station. And a few years ago the same thing had happened near a government hospital.
Kurwai police station officer MS Raghuvanshi told HT, "We have made adequate security arrangements as flames are very high and coming out with great force. Officials of the district administration inspected the site but so far no technical expert has visited there. Policemen are on duty round the clock there so that no human being or any animal is injured."
Prof PK Kathal, head of geology department at Dr HS Gour Central University Sagar, said
that there were pockets of methane gas beneath the earth in the area
, which when penetrated come out to the surface. "As methane is inflammable, it burns with little spark. Generally there are cracks in such rocks and whenever a tubewell is drilled such gases find direct passage to the surface. During drilling sometimes sparking takes place due to friction and the methane gas starts burning. This will gradually subside. If local administration invites us, we can examine the spot as an expert", he said.