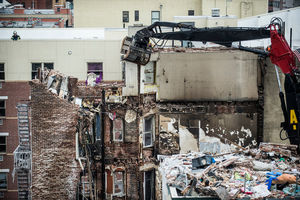 After an eighth body was extricated from the rubble of two buildings in East Harlem that were leveled by an explosion, fire and safety officials began on Friday narrowing in on what caused the blast.
With all of those missing now accounted for, investigators revealed that combustible levels of gas had been detected underground near the site on Park Avenue, a few hours after the explosion on Wednesday morning. Crews from Consolidated Edison drilled 50 holes in the ground and,
in five of them, found air containing from 5 percent to 20 percent methane
, said Robert Sumwalt, a member of the National Transportation Safety Board.
"That's a pretty good concentration of natural gas," said Mr. Sumwalt, whose agency is investigating the explosion, which also injured roughly 60 people. "It further leads to our hypothesis that
this may well have been a natural gas leak
."
Normally, no methane would be found in New York City's soil
, he said.
The source of any leak, however, was still unknown.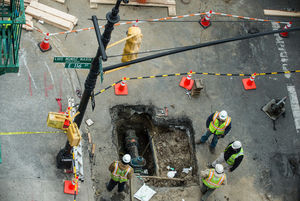 Fire Commissioner Salvatore J. Cassano said at a news conference with Mayor Bill de Blasio that emergency personnel were expected to reach the basement of one of the buildings, 1644 Park Avenue, and clear it of water and other debris by Saturday afternoon, enabling inspections of the gas pipes. Nearly 75 percent of the debris had been removed and a rear wall had been knocked down, clearing a path to the basement in one of the buildings, which could be critical in determining the cause of the leak.
Mr. Sumwalt said the next step for Con Edison would be to conduct "pressure tests" in the gas pipes under the streets by blowing compressed air into them to try to locate leaks. He said the first test would start on Saturday on East 116th Street and, once firefighters cleared the way, a second would be conducted on the 127-year-old main under Park Avenue.
He said investigators would consider whether the age of the pipes was a factor, but added that
this might not be the case if the pipes had been properly maintained and monitored. In front of 1644 Park a few years ago, Con Ed replaced a 90-foot section of the old iron pipe with plastic
.
Mr. Sumwalt said the safety board would continue collecting documents and data and interviewing witnesses and Con Ed employees through the weekend and into next week. He said his team had seen a video of the explosion but welcomed others. He invited residents of the neighborhood to contact his agency and share "firsthand information" about "anything they have heard, seen or smelled."
For now, recovery crews will continue to look for bodies, using sonar equipment to search voids and sifting through the tangle of twisted metal and concrete still at the site, Commissioner Cassano said.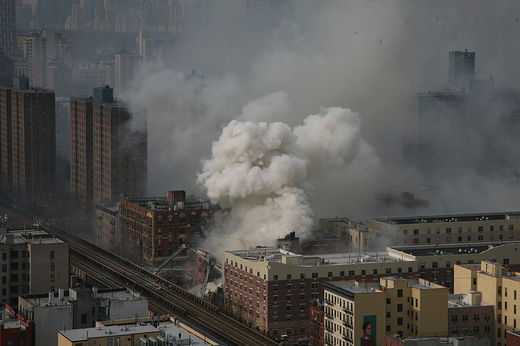 Read the rest here.