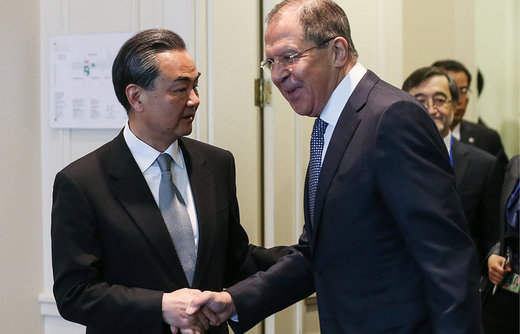 The governments of Russia and China should speed up the process of linking the Eurasian Economic Union (EAEU) and Silk Road Economic Belt, Chinese Foreign Minister Wang Yi said on Tuesday.
"China and Russia should speed up linking the Silk Road Economic Belt and EAEU, in order to collect early harvest," Wang said on the sidelines of the meeting of the Council of Foreign Ministers of SCO (Shanghai Cooperation Organization) member countries.
The foreign minister noted that Russia and China
"maintain close strategic cooperation on international and regional issues, and have become important components of international stability. Developing the Shanghai Cooperation Organization is an important force of preserving peace,"
Wang said adding that Russia and China should continue close cooperation in this sphere.
EAEU and Silk Road Economic Belt
On 8 May 2015, Russian President Vladimir Putin and Chinese President Xi Jinping signed an agreement on cooperation in the framework of the Silk Road Economic Belt project. The agreement envisages "linking" the Eurasian Economic Union and the Silk Road Economic Belt. "In fact, we are talking about entering the new level of partnership in the future that envisages common economic space on the Eurasian continent," Russian President Vladimir Putin said after talks.
The Silk Road Economic Belt is a project of creating a transport, energy and trade corridor between the countries of Asia and Europe. The idea of constructing the Silk Road was put forward by Chinese President Xi Jinping in September 2013.
The name of the project traces back to trade routes of medieval caravans that lay through the territories of modern Kyrgyzstan, Kazakhstan, Mongolia, India, Turkey, Iran and Greece. These routes were later called the "Great Silk Road.".