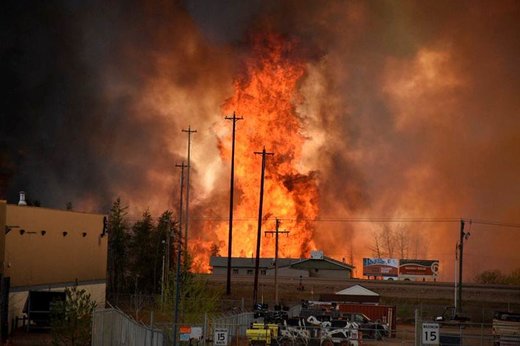 It's hard to tell whether it's a legitimate offer, or a snide geopolitical belittling of one of its fiercest critics, but Moscow has extended an offer to Ottawa to help battle the raging forest fires in Fort McMurray which have displaced more than 80,000.

Comment: No, given the clear pattern of Russia's government saying what it means and meaning what it says, then it's perfectly clear that this is a legitimate offer. It's understandable though that psychopaths - and people afflicted by psychopathy - would read it completely differently.


In a statement released Thursday, Russian Minister Vladimir Puchkov offered to "immediately" send emergency aircraft to help battle the blazes that have spread through Alberta's north throughout the week.
But considering the frosty state of relations between the two nations, it's unclear whether that was a legitimate olive branch or simply another Russian propaganda effort. Or, perhaps even more likely, a combination of both.

Comment: Don't dissimulate like some snivelling weasel; it's either one or the other.


Puchkov said Russian air force is prepared to send Ilyushin Il-76 strategic transport planes — which the statement says can carry 42 tonnes of fire retardant material — as well as "Russian rescuers and specialists with necessary equipment to fight fires in Canada and organize ground support for aircrafts."
The statement, posted in English, appears roughly translated.

Comment: Do you want the help or not?


The statement says the offer was made directly via "telegram" to Ottawa, although the original statement — which has since been corrected — lists the wrong minister. It said the communique had been sent to Public Safety and Emergency Preparedness Minister Steven Blaney, who lost his job last October, not Ralph Goodale, who is the current minister.
A spokesperson for Goodale confirmed that the letter was received last week, and told VICE News that —
thus far — Russia is the only country to reach out
.
"The Government of Canada does have a mechanism in place for mutual firefighting support with other nations, including some specific agreements," the spokesperson said in an email. "Canada does not have a formal arrangement with Russia for this purpose.

Comment: "Canada does not have a formal relationship with Russia to save Canadians' lives."


"We will review the offer received from the Russian Federation and will respond to them in due course."

Comment: "Due course". While Canadian citizens' lives are in danger, the government talks about "due course", because it's Russia, and Russian help can't be accepted because Putin and Russia might gain some well-deserved international credibility. So they rejected the offer on that basis. They know that there's a risk of the public crucifying them if they reject it out of hand, so they're pretending to 'maybe' accept it, then counting on the fires dying down soon and everyone forgetting about the Russian offer.

They're not allowed to accept the Russian offer because that, as far as the Western elites are concerned, makes Russia look good.

To hell with whether or not their help might help ordinary Canadians fleeing fires; that is irrelevant.


As one Russian official pointed out, similar aid offers were made to Haiti following its devastating 2010 earthquake and to Bosnia and Serbia after flooding there in 2014, as well as a range of other disasters worldwide.
But Russian aid to North America and Western Europe is somewhat more uncommon. Several Il-76 did land in the United States as part of an aid effort mobilized following Hurricane Katrina.
Steve Saideman, the Paterson Chair in International Affairs at Carleton University in Ottawa figures that
Russia's offer is exactly what it seems like — an offer to help
.
"I don't think this is snide, but perhaps it is a bit about the Russians asserting their superpower-ness since this is what superpowers do. They help beyond their immediate region," he told VICE News over email.
Since then, however, relations between the West and Russia have frozen over. Canada slapped an aggressive round of sanctions on Russia following its annexation of Crimea and support for rebels in Donetsk and Donbass.
With the ouster of Canada's Conservative government — which had been forceful in its criticism of the Kremlin and its support for Ukraine — foreign policy watchers have noted a slight warming in those relations.
Sergei Lavrov, Russia's foreign minister, signalled a willingness to normalize relations with Ottawa. And while the Canadian government has suggested that it is considering removing some sanctions, little has changed in concrete policy.
Canadian Foreign Affairs Minister Stephane Dion said in a lengthy speech in March that "Canada's severing of ties with Russia had no positive consequences for anyone: not for Canadians, not for the Russian people, not for Ukraine, and not for global security."
In the next breath, however, he added: "Canada must continue to require that these collective sanctions be maintained, or even strengthened."

Comment: Everyone knows the sanctions are nuts, but everyone also knows that the power behind them is so evil that its whims must be obeyed.


And, for the Russians, the only meaningful cooperation can come once the sanctions are dropped.